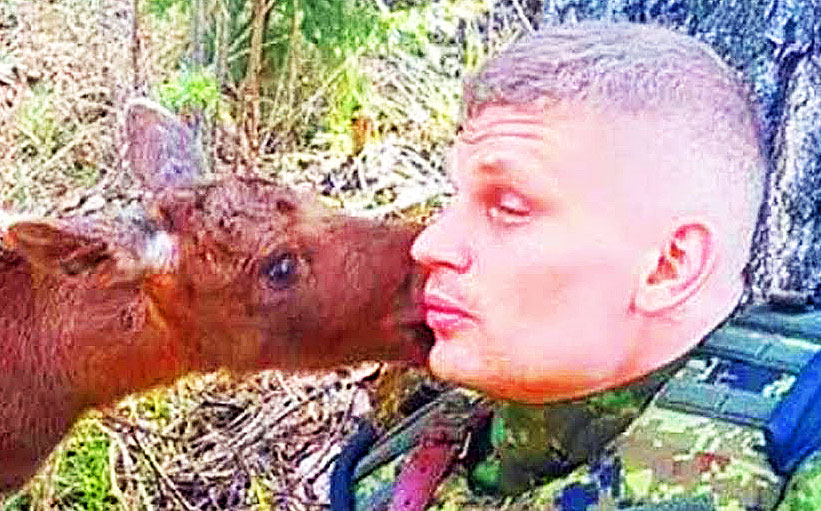 image via – youtube.com
Last year Estonia was holding the country's largest ever military exercises to help train and test their troops.  Soldiers were stationed all across the country with allies from NATO taking part as well. The war games went off without a hitch and bolstered Estonia's defenses, they also led to a chance encounter of a lifetime for a few soldiers out in the field.
One unit had been stationed by the shores of Lake Võrtsjärv, the largest lake located in the middle of the country, when a soldier came across a baby moose.  Erich Jyri Prikko, a conscription member of the Estonian Defense Force, had gone into the woods to use the bathroom when a strange noise caught his attention. 
He described it as sounding like a cat or baby, and when he looked up, he saw a small animal ahead in the dense brush. At first, he thought it was a dog but when the animal moved towards him, he could see that it was actually a little baby moose calf.  
The calf seemed to be alone as there were no other moose in the area and its cries were heartbreaking.  Prikko assumed it must have been lost and separated from its mother somehow which wasn't good because it was so small and clearly very young.  Hoping that the baby moose would wander off in search of its mother, he decided to sit on the ground and make himself appear as non-threatening as possible.  
His plan backfired because the calf wandered over to him instead and began to nuzzle his face and neck, it even nuzzled under his armpit!  The calf must have been hungry and was trying to nurse thinking perhaps Prikko had some milk. After that the little moose had won him over and he knew he couldn't just leave the poor baby all alone in the woods.  
He walked off and called a veterinarian to ask about what he should do and was told to leave the calf where it was found and monitor the situation.  He was also advised to bring a bottle of milk in case he needed to feed the calf if its mother didn't come back. For the rest of the day Prikko and his unit laid low and did their best to not disturb the area, they didn't want to risk scaring off the mother.
That night they heard a moose call in the distance and the very next morning large moose tracks were spotted in the mud.  The baby calf was gone, it had more than likely been reunited with its mother. The memorable interaction made a lasting impression on Prikko and his unit. 
They went above and beyond their duty to protect and even though they were on a training mission, it didn't mean they couldn't have a heart and act with compassion towards those who need it most, like the small defenseless moose.    
Watch the video below for the full story:
Please SHARE This With Family and Friends