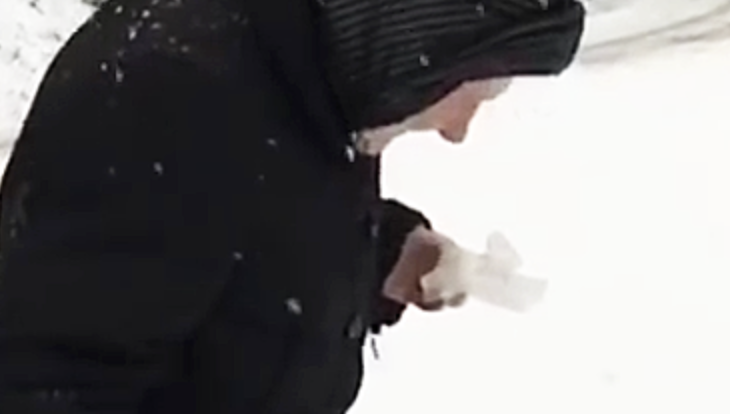 image via – youtube.com
There is something about a beautiful winter snowfall that brings out the inner child in all of us. A fresh coating of snow instinctively draws people in and beckons them to play with the cold glittery flakes. This seems to ring true for a lot of people, and if you're one of them then you'll appreciate this heart warming video.
The sweet moment was captured by Armand Foisy when he was recently traveling through the countryside with his mother, who is 101 years young! The pair had been in town on a rainy day and could see that further up in the mountains it had began to snow. They decided to go check it out and hopped in the car. As they made their way up the windy mountain road the snow began to come down heavily and the roads were quickly becoming treacherous, so Armand decided to turn the car around and head back. He pulled off onto the side of the road to swing the car around and just as he was about to get back on his mother opened the car door and got out.
The magic of the falling snow had drawn her in and proved too beautiful and tempting to ignore. Armand's mother wanted to experience the weather firsthand and couldn't pass up the opportunity to have a little fun in the winter wonderland landscape they were in. Knowing that this was a special moment, Armand grabbed his camera and captured it for memories sake. Thankfully he decided to share it with the world because this video is awesome and a pleasure to view.
Watching his mother play in the snow, as if she were a little girl again, is wonderful to witness. It brings back memories and it made me nostalgic when she gingerly bent down to pick up a handful of snow and started to pack it into a perfect snowball. Then, with a smile lighting up her face, she threw it over the side of the bank and into the woods. The whole time she looked absolutely thrilled and delighted to be out in the snow. It goes to show that for some people age is just a number. If you feel young at heart, like Armand's 101 year old mother, you can live life to the fullest and always find beauty in the smallest and simplest of things.
Please Share This Heartwarming Video With Family and Friends 🙂