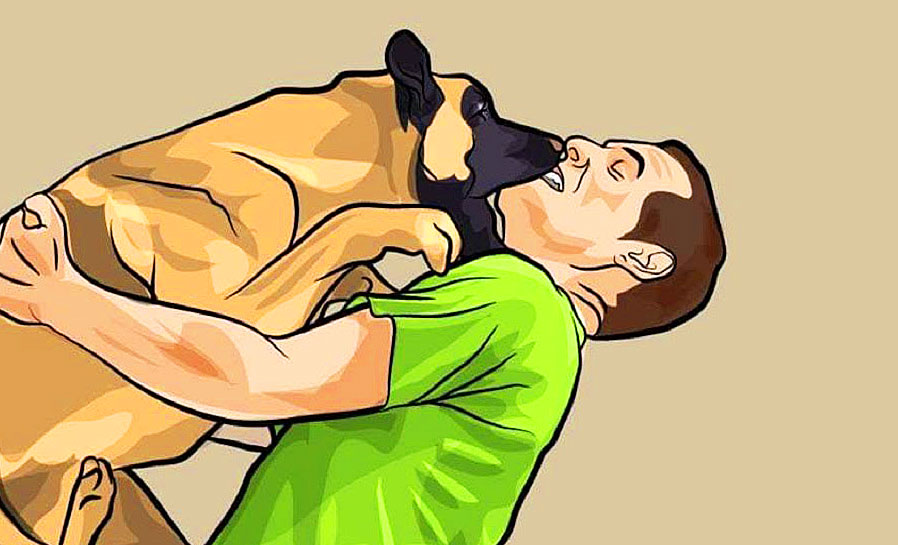 image via – youtube.com
For anyone who has ever had a dog it isn't huge news to find out that dogs feel actual love for their owners. However, because they're unable to speak, they have to find other ways to communicate their love. Even dog lovers might be surprised by the hidden meanings behind the things that your dogs do on a regular basis.
Sleeping on their side – It seems that when dogs sleep on their sides, they're actually trying to tell their owner how they feel about them. By doing this, dogs are telling you that they love and trust you.
Sleeping on their stomach – When dogs sleep on their stomachs, its often because they are shy or gentle dogs. When sleeping in this way, dogs are unable to sleep deeply and cannot reach REM sleep in this position.
Sleeping on their back – When a dog sleeps or lies on its back, it is often because they are hot and are trying to cool off. If the dog's arms are crossed, it means they want to be left alone so he can sleep.
Staring – If a dog is staring at you, it simply means that he wants your attention and love. So go out and play already!
Staring with their tongue out – While staring certainly identifies a desire for attention in a dog, a tongue out also can show you what mood they are in. Usually, when a dog stares with his tongue out, it means that he is relaxed and generally content at that moment.
Intense eye contact – When a dog stares intensely at you, it actually means something different than a normal stare. This kind of scrutiny signifies that the dog is trying to read your expression as to better understand what you want from the animal.
When Your Dog Jumps On You After You Arrive At Your House – This is because he missed you so much that if it means knocking you over and giving you a hug while licking you on the floor; so be it! This is the ultimate show of love any canine will ever show for their human.
Stance with open mouth, relaxed tail, and high ears – When a dog carries this stance, it means that the animal is relaxed and secure in its surroundings. If you want to approach a dog you don't know, look for this stance.
Stance with a pointed tail and forward-facing ears – When a dog maintains this posture, it means that the animal is curious about something. They probably hear or smell something that interests them.
Loose floppy tongue – When a dog has its mouth open with its tongue hanging out, it simply means that your dog is extremely happy. Keep up the good work!
Soft increasing bark – If a dog starts barking at you and steadily continues louder, it means that he wants to play with you. So what are you waiting for?!?
Everyone knows that dogs are full of love. What most don't know is that many regular actions that dogs take can actually tell you things about the dog. Through their actions, dogs communicate mood, wants, and even love. Here are some of the ways they tell you that something is bothering them.
Howling – Dogs have exceptional hearing, often much better than humans. As a result, they can hear things that we can't. This includes high pitched noises. Dogs usually howl when they hear these noises either because they're irritated by the noises or because the noises are actually hurting the dog's ears. 
Baring teeth, ears back, and snarling – This one is pretty obvious. If a dog is exhibiting this kind of aggressive behavior, it means that it is aggravated and on edge. Make sure to always be careful when approaching dogs in an angry state as they could pose a physical threat. If your own dog is like this, try to calm them down by giving them a treat, bone, or toy they like. Hopefully, this will relax your pup.
Low growl – This just means that your pup is anxious or scared. Logically, if there is something that is clearly scaring the canine, separate the two. If you're not sure what could be causing it, employ the same tactics as when your dog is angry. Note what antagonizes your dog so you can avoid negative interactions in the future.
Watch the video below for a more in depth look at all these dog behaviors:
Please SHARE This With Family and Friends