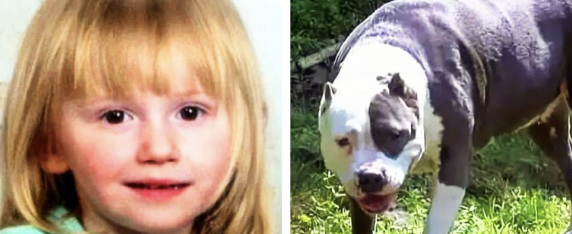 image via – youtube.com
When a child goes missing, it's a parent's worst nightmare.  They can't help but think about what may have befallen them and the fear of the unknown, and all the terrible possibilities, run rampant through their minds.  While it seems uncommon for the most part, it's not.  According to the National Center for Missing and Exploited Children, every year in the United States alone about 800,00 children are reported missing.    
When Charlee Campbell, a two year old girl from Lebanon Junction, Kentucky went missing In June 2018 people gladly dropped what they're doing to help find her.  Local police, firefighters, and over 100 volunteers joined forces to search for the toddler who was autistic and often nonverbal.  \
Her grandmother, who had been watching her, woke up to find the front door open and both Charlee and the family pit bull, Penny, gone.  Her house was located in a rural area and so searchers focused on combing the surrounding woods and fields, but after almost two days they still had not found her.
News of Charlee's disappearance quickly went national and missing posters with detailed descriptions of her and what she was last seen wearing were plastered around the community.  People were on the lookout for the toddler and her dog and everyone was hoping and praying for her to be found safe and sound.  
One man who lived near Charlee's grandmothers house was especially concerned for her.  Wayne Brown had experienced this before when his little brother went missing back when he was just 8 years old.  His brother had wandered out of the house and was found miles away but unfortunately, he had died.  Wayne had been praying for her safe return when he spotted something in his back yard. 
He ran outside and there in front of him was a small blond girl.  She was covered in dirt and had ticks all over her, yet she matched Charlee's description.  When he saw that her shirt had a picture of a Frozen character on it, as described on the news and posters, he knew for sure this was the missing girl.
 Mr. Brown immediately called the cops to report that he'd found Charlee and they came right over, picked her up, and brought her to be checked out at the hospital.  Coincidentally, around the same time Charlee was found, her dog Penny showed up back at her grandmother's house.  Her grandmother believes that Penny had stayed by her granddaughter's side and made sure she was safe when she was missing. 
Charlee had been gone for at least 32 hours and judging by the ticks and leaves on her, authorities believe she was lost somewhere out in the woods.  Besides the elements, there are coyotes, rattlesnakes, copperheads, ticks, and all sorts of other wildlife in the rural area. 
Penny had guarded Charlee from harm and after being checked out the little girl was found to be a little dehydrated, but otherwise healthy and in good shape.  Thanks to Penny the pit bull, her missing story has a happy ending.
Watch the video below for the full story:
Please SHARE This With Family and Friends