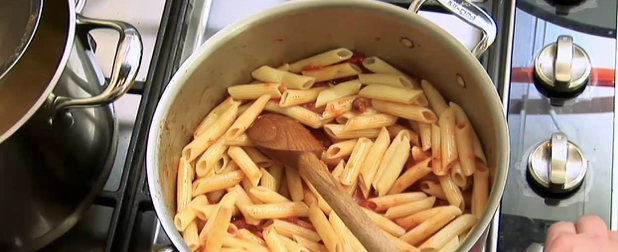 It doesn't take a genius IQ or a centuries old secret recipe to boil up a decent pot of pasta. Even people who are a far cry from culinary aces know how to make the Italian staple. Most everyone starts off the process by bringing a pot of salted water to a boil. Next comes the pasta, it gets dropped in to cook, and then the water is strained off down the drain. From this point on it varies as to what people do next but typically they add some sort of topping, like sauce, and most of them are doing it wrong!
There are a few ways in which a yummy plate of pasta can go awry, and the chances are high that you're guilty of doing some of these things! Professional chef and author Andrew Carmellini shares his knowledge and enlightens us on the proper way to sauce pasta in this video. If you follow his tips, the next heaping bowl of pasta that you eat will be perfect.
The first major no-no Mr. Carmellini covers is this; placing pasta on the plate right after draining it, followed by sauce directly on top, is wrong. If you're like me then you're probably thinking to yourself, but that's how I've been doing it my whole life! What follows below is a much tastier way to prepare it, but first here are some common things that people do wrong when cooking pasta:
– Don't dump the water pasta was cooked in down the drain, save it because you'll use it later – Don't rinse freshly drained pasta with cool water, it washes the starch off and the starch is what adds to the texture and taste of it – Don't let pasta sit and get cold after draining, this just makes it stick together in mushy clumps.
Instead, do the following:
1) Put the sauce on the stove and warm it up before the pasta finishes cooking.
2) Take the pasta out of the water, strain it, and then add it directly to the heated sauce.
3) Cook the pasta and sauce together for at least a minute or two after combining. The sauce will cook into it and make the flavors meld together more evenly.
4) Take a little bit of the starchy water the pasta was cooked in and mix it with the pasta/sauce.
5) Turn the pasta and sauce off before adding some butter, olive oil, and grated Parmesan cheese to it. This gives it a richer, creamier, smoother taste and texture and is how many restaurant-quality Italian dishes are finished off.
6) When adding fresh herbs and spices, always mix them in with the pasta and sauce last to keep the flavor fresh and bold.
Now you can plate the pasta, dig in and enjoy! Be sure to check out the video below
Please Share these Tips with family and friends so that you'll never have to endure lumpy, gross pasta again!