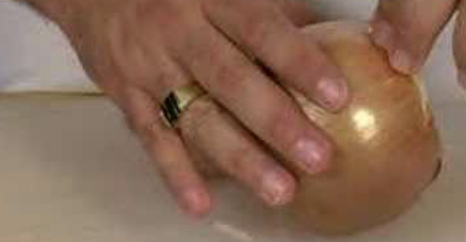 Chopping onions is not a pleasant experience. In fact, it easily rates among the top most awful food prep jobs you may ever have to do in the kitchen. Lots of onions are very strong and some can be so potent they overpower you, making your eyes burn and start to water. With the combination of blurry eyes and a sharp knife your cozy night in making a simple homemade dinner can quickly turn into a kitchen nightmare…and give you a real reason to cry..
While the stinging sensation is extremely uncomfortable, it's also completely avoidable. In the accompanying video YouTube's Jack Scalfani of the 'Cooking With Jack Show' demonstrates a simple trick to cutting an onion without crying. The secret is to remove the bulb part first before you start slicing and dicing because it contains all of the gases that make our eyes burn and water. It's important that you don't cut into this bulb portion so do your best to remove it completely in-tact. Check the clip out to see exactly how it's done and try it out!
To start, place the onion root-side up on the chopping board so that you're looking right down at the scraggly roots. Take a paring knife and slowly insert it down into the root end about half an inch or so out from the center. Move it all the way around the root base in a circle and cut on a slight angle so that you end up with a cone-shaped piece. When you're done cutting out the circle you should be able to easily remove the bulb and can discard it. At this point you can peel the dry, papery brown layers of skin off the onion and cut it up as you normally would.
This onion cutting method is effective and easy to do. Plus, it's guaranteed to make life a little more easy and comfortable, so the next time you find yourself face to face with an onion that needs chopping, remember and try it out. You won't shed a single tear!
Please Share This Cutting Technique With Family and Friends 🙂