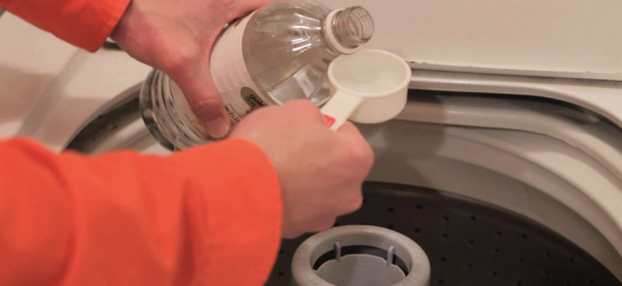 Let's be honest, one of the least exciting chores that must be done around the house is laundry. The inevitable build up of dirty clothes is an annoying, never-ending cycle, but also a very necessary part of life. The worst part about it is figuring out how to properly launder and clean all the different types of clothing you have. Some pieces may be badly stained or heavily soiled, then there's towels, sheets, whites, colors, and whatever else needs special consideration!
In turn, for all of those different things there are numerous products like detergents and fabric softeners, dryer sheets, spot and stain removers, bleach, and more that are designed to clean certain things. They add up fast, but you don't even need half of them, instead all you really need is white vinegar.
White vinegar allows you to get all of your laundry done with the least amount of guesswork and products. How so? Check out the video and read on for the long list of white vinegar laundry uses that will make your clothes cleaner, softer, better smelling, and less static-clingy!
Clean and Brighten Colors- In addition to regular detergent, place some white vinegar in your washer's dispenser so that it gets released during the rinse cycle. For larger sized loads use ½ cup and for average-smaller sized loads about ¼ cup of white vinegar.
Sweat Stain Removal- Before washing, spray some white vinegar on the stains, and then launder as per usual.
Stubborn Stain Removal- Soak clothes overnight in a tub filled with warm water and ½ cup of vinegar then wash them as you normally would the following day.
Deodorize- Vinegar is a natural odor neutralizer and works wonders at eliminating stinky smells, from mildew to smoke and perfumes.
Remove Built-up Residues- Powdered detergents have a nasty habit of leaving behind residue but by adding a half a cup of white vinegar you can both eliminate and prevent them.
Fabric Softener- Simply pour a little bit in the compartment for the fabric softener and you'll notice the difference.
Delicates- Fill a sink, tub, or container with warm water and then add six tablespoons of white vinegar. Hand wash delicate items and soak them for 30 minutes before rinsing and drying.
Clean the Washing Machine- Don't place any clothes in for this, simply add in a full cup of white vinegar to the machine's dispenser and run it on the hot cycle. When it's all done any built up grime, waxes, or residues will be gone.
Reduce Static Cling- When you wash your clothes with vinegar it reduces the static charge and so they'll attract less dust, animal hair, lint, and all that fuzzy type of stuff.
White vinegar can basically do everything you need in terms of doing laundry and cleaning clothes and the only other thing you might need is detergent. Using vinegar can help you save money and cut down on all the irritating, harsh, chemical-laden products you use. Try it the next time you do laundry and see how you like it!
Please Share This With Family and Friends