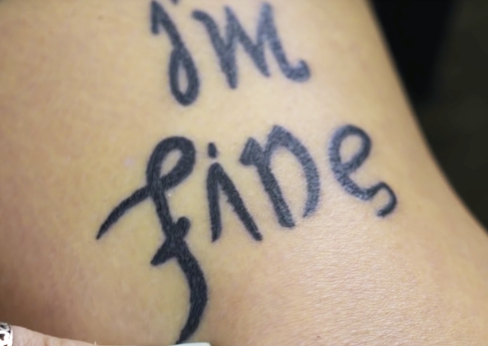 image via – youtube.com
Tattoos have become an acceptable mode of self-expression in recent years, although for a long time they were stigmatized; they were associated with the more marginalized people in society who struggled to fit in, and often ended up in trouble with the law.
Not only have tattoos come a long way in being seen as an artistic mode of expressing oneself, but they have recently taken on a very different and important role. There is a touch of irony here, in that the once stigmatized TATTOO is being utilized to raise awareness about mental illness; still so stigmatized in our society.
Bekah is a college student who was suffering from depression, as so many people do, without knowing how to ask for help. Depression is an insidious illness that leaves people feeling hopeless and alone. Burdened with such darkness, many people who suffer do not even know how to put words to what they are going through.
Bekah wanted to get a tattoo that had some meaning; in the following video you will hear the story of her journey towards mental health. The tattoo that she got opened the door for a dialogue that would help Bekah and others in their attempt to get help.
Most people, when asked how they are doing, reflexively answer "I'm fine". "I'm Fine" is Bekah's tattoo, when seen from one perspective. However, you will see it's secret meaning when it is viewed upside down.
Let us know your feelings about her story and what she is doing to help raise awareness about the importance of letting others in, when you are dealing with depression, anxiety or any form of isolating mental illness.
Watch the video below for more information:
Please SHARE This Story With Your Family and Friends