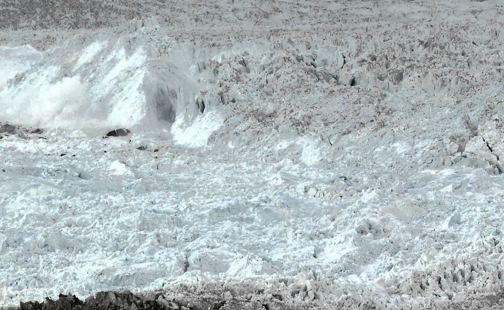 image via – youtube.com
You are about to watch a moment in nature that was captured by filmmakers Adam LeWinter and Jeff Orlowski in Greenland.  The footage you will see in this clip from their award winning documentary, "Chasing Ice", is an event that they aptly describe with adjectives that you don't often see strung together.
They began to see movement begin on the Ilulissat Glacier.  It was "calving" in a manner never ever seen by other human beings before.  The filmmakers called the event in which the glacier collapsed over a period of 75 minutes, retreating a full mile, a "Magical, miraculous, horrible, scary thing."
As this mind-blowing movement appears before your eyes, it is hard to comprehend what has actually occurred.  You will hear their astounding comparison at the end of video, which compares it to the collapse of an area of ice, that is the size of Manhattan! They further compare the amount of movement in the last 100 years, to what has occurred in the last 10 years…startling proof of what climate change is doing to our planet.
Hopefully this will be a wake up call to raise awareness that we need to start taking care of Mother Earth before it's too late!
Watch the footage below:
Please SHARE This With Family and Friends