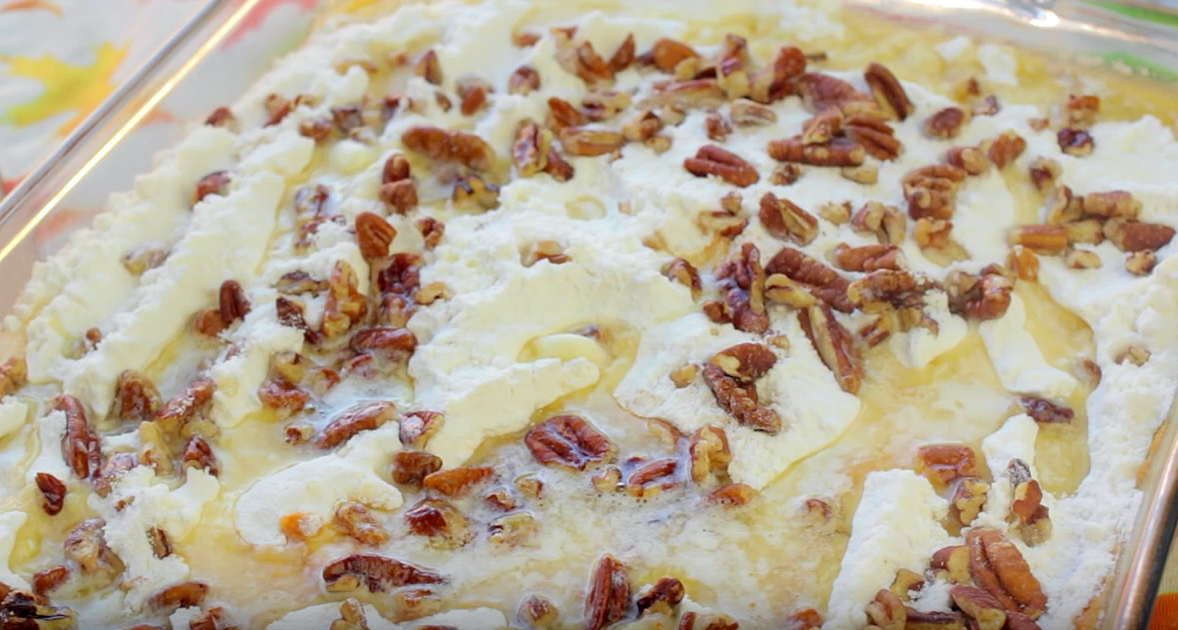 image via – youtube.com
Just as looks can be deceiving, so can names. There are many delicious dishes out there in the world which have strange, confusing, even off-putting titles. However, no matter what you call it, a cake is a cake!
This recipe is what's called a pumpkin dump cake but don't let the name fool you, it tastes absolutely scrumptious. Think of it as more of a cobbler type of dessert because you make it by basically dumping the ingredients into a pan before baking it. That's what makes dump cakes so simple and easy to whip up from scratch. Plus, once it finishes cooking in the oven and cools off a bit you can turn the pan over, dump it out, and voilà- it's ready for devouring.
If you like spicy, nutty, pumpkin flavored sweets then this is sure to be your new favorite fall recipe. It pairs perfectly with a steaming cup of coffee, apple cider, or hot cocoa and can be served plain or dressed up with whipped cream, fresh fruit, powdered sugar, melted caramel, fudge, ice cream, you get where this is going…. The accompanying video gives you more great baking tips and all the details on how to make pumpkin dump cake so check it out and be sure to file it away for when you need it later!
Ingredients:
2 cans of pumpkin (15 ounces)
1 cup of sugar
1 can of evaporated milk (12 ounces)
3 eggs
½ teaspoon of salt
4 teaspoons of pumpkin pie spice
1 box of yellow cake mix
1 cup of chopped pecans
¾ cup melted butter
Toppings of your choice – optional
Instructions:
1. Set the oven to 350 degrees Fahrenheit, grease a 9 x 13 inch baking pan and set it aside.
2. Take the pumpkin, sugar, evaporated milk, eggs, salt, and pumpkin pie spice and mix them all together in a bowl until well blended.
3. Pour the pumpkin batter into the greased baking pan and spread it evenly.
4. Add in the cake mix atop the batter, spread that evenly as well.
5. Sprinkle on the chopped pecans, add a little extra if you love nuts!
6. Carefully pour the melted butter as evenly as possible across the top of the cake mix and gently spread it with a spatula if necessary.
7. Place the pan in the oven and bake for 55-60 minutes
8. You can eat it right away or let it cool and enjoy it later!
Please SHARE This Recipe With Family and Friends 🙂