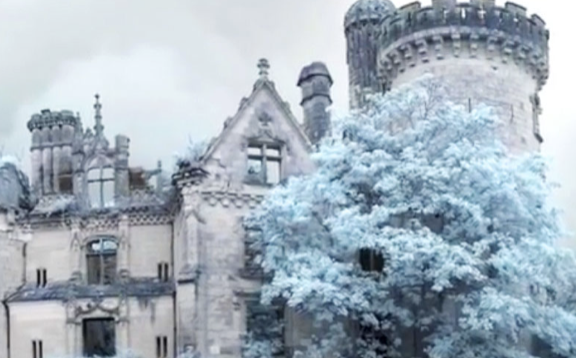 image via – youtube.com
When you think of a castle you likely imagine a sturdy, imposing fortress that was built from stone and surrounded by a water-filled moat. After all, castles were purposefully constructed to keep people safe and protected inside their walls. They are what stood between everything from marauding enemies to wild beasts and the destructive forces of mother nature. Castles were meant to be strong and had to be able to withstand long, drawn out, aggressive sieges. In later years they took on a more extravagant role and today they are seen as dreamy, fantasy-like places, filled with magic and romance.
The abandoned castle seen in this incredible footage is called Château de la Mothe-Chandeniers and it looks like it comes straight out of a Disney movie. The beautiful ruins are located in the town of Les Trois-Moutiers, in the west of France. For centuries the majestic castle has sat in the middle of a heavily wooded area, surrounded by a water filled moat, imposing and elegant all at once. Today it is being left to slowly fade away back into nature, yet despite the years of neglect, the castle still looks like it's fit for royalty. All that it needs is the right owner or group to step in and restore it to its former glory.
To truly understand the amount of detail and thought that went into constructing this castle, you need to take the video tour because it's the only thing that gives it justice. You can feel and sense all of the tragedies and triumphs this castle has borne witness to. It may have been overtaken by nature and seemingly forgotten about, but if these walls could talk they would tell tales of epic battles and grand celebrations. Be sure to check it out and take the tour, here's more on the history of the Château de la Mothe-Chandeniers.
First and foremost, the castle is filled with history and has quite the tumultuous past. It dates back to at least the 13th century and was originally built as a safe haven for the notable Bauçay family, who were lords of Loudun and answered directly to the king of France himself. Over the following centuries the castle was overtaken twice by English forces during the middle ages before it was eventually given back to the French. After being restored it went on to become a very popular place where nobility gathered for magnificent galas and lavish, extravagant, over the top parties. The good times didn't last long though and during the French Revolution the castle was once again destroyed after being sacked.
There it sat for some ten years or so before a well-heeled businessman named Francois Hennecart bought the property with the intent to once again restore it. He managed to add a vineyard but in 1857 it was taken over and passed on to Baron Joseph Lejeune, a wealthy relative of Napoleon III. He rebuilt the castle extensively in the romantic style that was popular at the time and continued on the tradition of holding lavish parties.
It was during a subsequent renovation in 1932 that the castle succumbed to its latest major setback and ever since then it has sat vacant. At the time, the current owner had been installing central heat and somehow a fire was sparked. The resulting damage not only devastated most of the structure, numerous rare pieces of art, furniture, tapestries, books, and paintings were sadly destroyed as well and lost forever.
In recent years there have been a number of efforts to restore Château de la Mothe-Chandeniers, but it seems that everyone who tries gets railroaded into giving up. Hopefully a preservation society or some group can step in and help to rebuild it because it is a seriously beautiful, magically impressive castle that deserves saving. Please help spread the word, the more awareness, the better the chance this gem can be preserved for centuries to come!
Please SHARE This Incredible Footage With Family and Friends