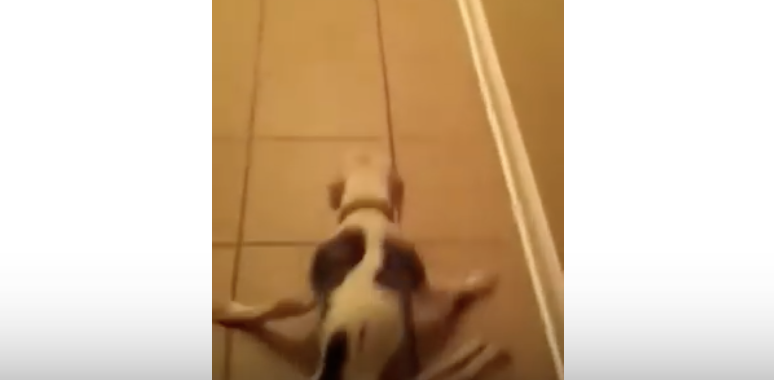 Mikey, Jesse, and Emma were all in for a huge surprise.  Their father had been away on deployment for 6 long months and they had no idea when he was due back.  So when the airman unexpectedly walked through the front door they excitedly ran to greet him.  Tails wagged back and forth rapidly, faint whimpers could be heard and tears of dog joy flowed.  And one little girl, Emma, did something she had never before done, she greeted her dad at the door.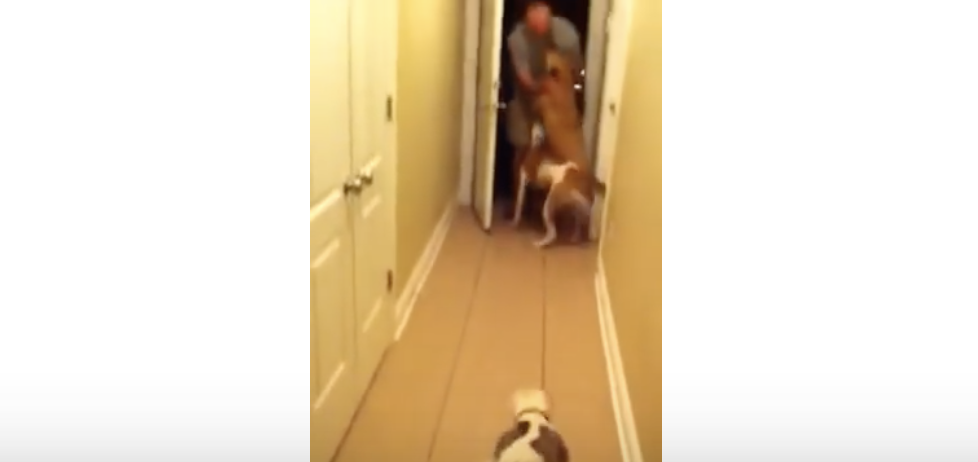 Emma was born with a severe birth defect that causes muscle and neurological problems known as Polyradiculitis.  It caused her to lose the use of her back legs and thus she relies on her 2 good front ones.  She'd been adopted by her new family and had grown really close to her new daddy before he had to leave.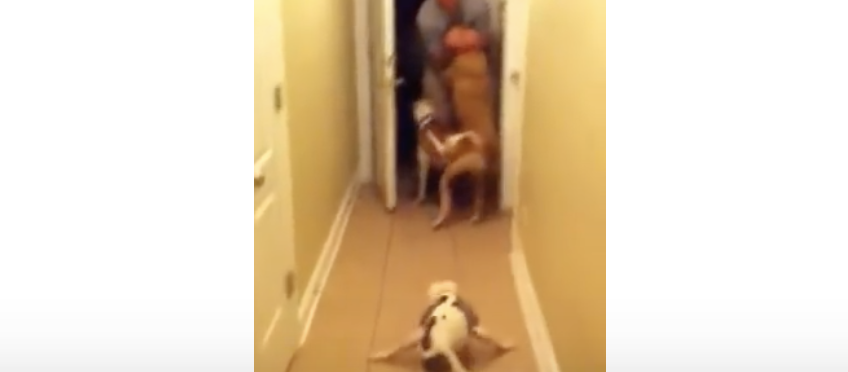 Normally she sits and waits at the end of the entrance hall for her mom to pick her up when she arrives home.  But this time she is so excited and it is too much for her to wait so she goes to the door under her own strength to greet the man she missed so much.  It is the sweetest thing to see and, personally, it brought me to tears.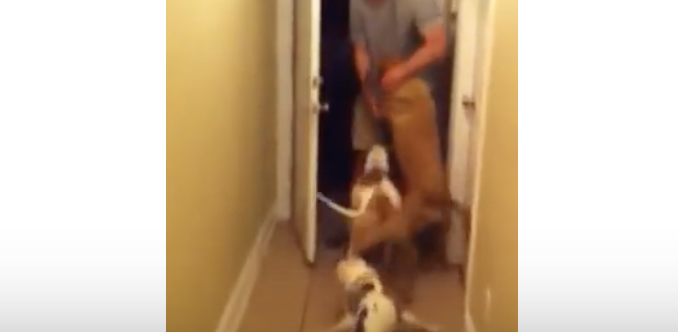 The American Bulldog and Pitbull mix had been adopted by Melissa Swanson and her husband 3 years ago (she was one years old in the video) from SNARR, a special needs animal rescue.  The organization agreed to let the Swanson's keep Emma for the rest of her life, and yet still keep paying for her expensive and ongoing medical bills.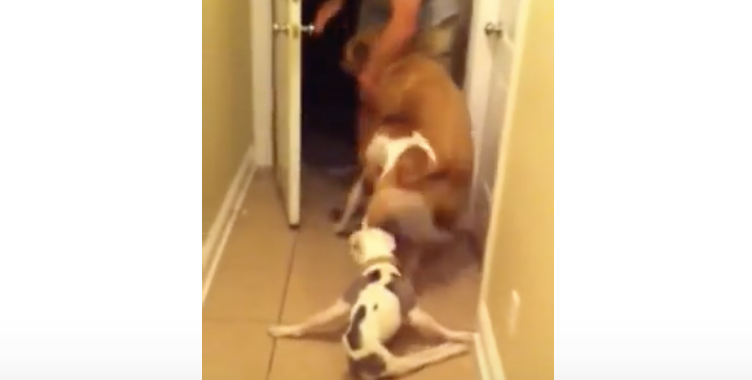 SNARR truly wants the best for their animals and by placing them in forever foster homes the animals can get the love and attention they deserve.  Best of all, for every single view of Emma's video, SNARR receives money that they put towards helping pay the costs of her medicine and care!  Help them out by checking out their site and the work they do as well as by passing on the video.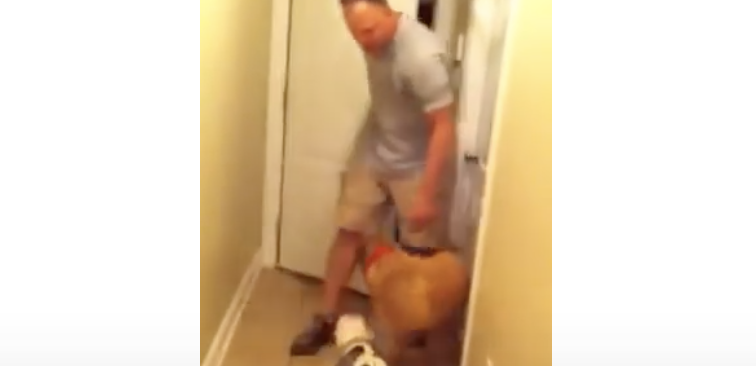 Please SHARE With Family and Friends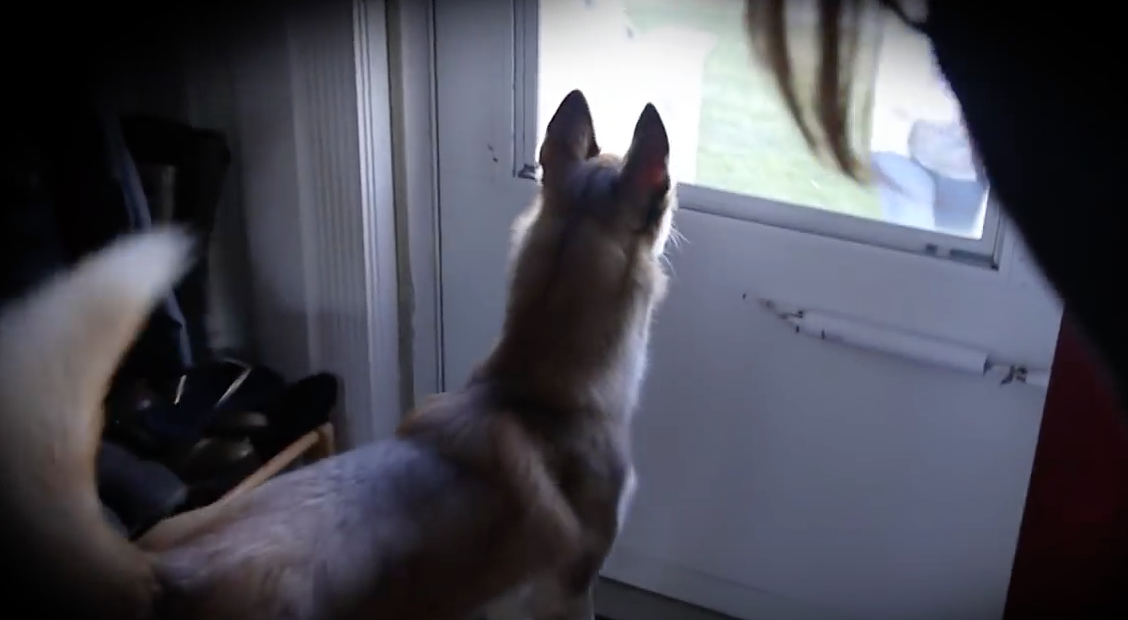 image via – youtube.com
Friendships come and go but there are always some people that we share a timeless, enduring bond with. Even if you haven't seen or heard from them in quite awhile, years or decades even, when you meet them again it's like things never changed. You pick up where you left off and naturally get along like two peas in a pod!
Dogs are no different from humans in this same type of way. They remember the special people and other animals that they have made connections with throughout their lifetime. The two adorable dogs in this video are proof of just how close and everlasting real friendship can be. They had not see each other in ages until their owners decided to get together and have a reunion, and as you can see, some things never change!
This beautiful canine story began back when Laika, the pretty brown and white Husky, met Rook, the handsome white pit bull with a dark patch over his right eye, when they were both young little puppies. They were just starting off in the world and it was friendship at first sight when they met all those years ago. The pair got along great and were always romping around, playing, and having fun with one another. However, circumstances changed and they ended up living far apart, sadly they never got to see each other anymore.
One past Valentine's Day Rook and his owners stopped by Laika's house. As they came up the walkway the Husky went straight to the front door and looked out the window. She immediately recognized her old friend and stood fully alert with her ears up and tail wagging quickly back and forth. When her owner opened the door to let the visitors in the house, Laika stuck her head out to greet and sniff her friend, she just couldn't contain her excitement!
Once the two were finally face to face they reverted straight back to their old ways and ran around happily, enthusiastically jumping and licking at each other. There was not a moment of hesitation between the pair, no growling or barking, all they had was love for one another. They are just about the sweetest, friendliest pair of dogs I've ever seen and based off the before and after shots it definitely appears that they picked up right where they left off!
By the end of the sweet clip Laika and Rook are laying on the ground together, both sporting expressions of pure joy and contentment. They definitely need to have more get-togethers if possible because it looks like they are in love.
Please SHARE This With Family and Friends 🙂