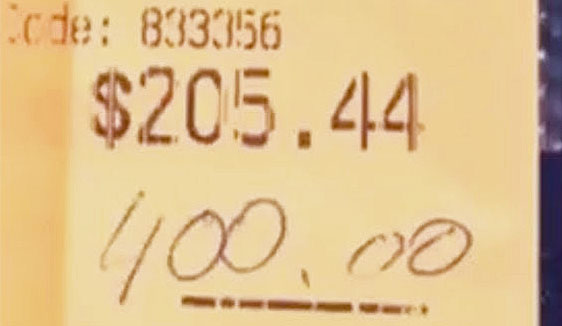 image via – youtube.com
If you have ever worked as a waiter or a waitress you know it was one of the toughest jobs in the world. From long hours, to back breaking loads, obnoxious customers and relying on tips for most of your revenue. I salute everyone who has worked in the hospitality and service industry and know how difficult it can be day in and day out.
Many waiters and waitresses have to not only work multiple shifts, but also work multiple jobs just to get by and support their families. It can be such a grueling and arduous job but many grind through with a smile on their face and politeness when they are completely drained and exhausted.
In today's a waitress named Kayla Chandra who originally came from California but moved to Honolulu, Hawaii. She had big dreams to go to college in Hawaii and finish her education however money got super tight and things got rough. So instead of going straight to college she ended up having to work 2 waitress jobs just to pay the bills.
One restaurant was a Thai Restaurant and the other was at the Cheesecake Factory. She was a super hard worker and very driven and always did her job with a smile no matter how hard her customers were to deal with. Then on one very special day her life would change forever as she worked a shift at the Thai Restaurant.
A couple from Australia randomly stopped by for a bite to eat at the Thai Restaurant and Shandra was their watiress. They were very talkative and wanted to know everything about Hawaii and what it was like to live there. Shandra's amazing personality began to shine through as she answered the nice couple's questions and then they began asking her questions about herself.
She explained to them that she originally came from from California and moved to Hawaii with a dream of going to college, but things didn't work out as she planned and now she was grinding hard for 80 hours a week just to get by.
She continued to explain to them that she had started school but her debt was too much handle so she had to stop her schooling and work non-stop to pay her debt back. Then she got their food they ate and she didn't think much of the whole encounter until she brought the check and the couple paid their bill. They got up and left, she went to get the check, looked down at the check and saw that her tip was $400! She just began to cry with happiness and couldn't find any words to express herself.
She thought this would be the end of this story with this amazing and generous couple, however they would return a day later with an even bigger surprise that would change her life forever…
Watch the video below for the full story:
Please SHARE This With Family and Friends