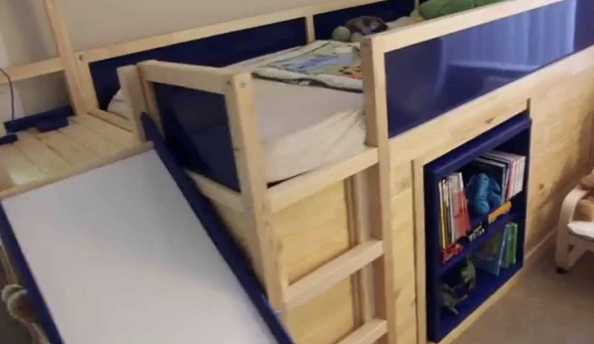 Kids love nothing more than exploring new things and playing games, especially hide and go seek. They spend hours at a time romping around with their friends and often find the best hiding places. It's a great way to keep them busy and active, and after a long day of play they are usually really worn out.
Children also love neat, comfortable, unique beds. Whether it's bunk style or a race car bed, we have all dreamed of having a cool place to sleep when we were young. One dad, Eric Strong, took all of this and more into consideration when the time came for his son to get a new bed.
The boy was fast outgrowing his small convertible toddler bed and his little sister was bound to soon inherit it.  When he ran this fact by his son the youngster agreed to give up the bed on one condition, that his dad upgrade his sleeping quarters, by giving him "the most awesome bed ever."
Knowing that his kid loved playing with things like marble runs, kinetic sculptures, playground slides, and exploring and hiding in general, he set about incorporating aspects related to them into the bed. His son was definitely going to get the best bed ever!
All it took was a little imagination, an IKEA Kura bed design, a few basic items and tools, and some time. The finished bed is far from average and has cool features that include a slide, pulley, and ball run. However, the best part about it by far is the hidden compartment.
The lower portion of the bed contains a builtin bookcase which conceals the entrance to it, and when a certain book is pulled the case swings inwards, and opens up to reveal the secret room. It's clear that Mr. Strong honored the bed deal he made with his son, and fulfilled the condition that it be awesome, because this bed is all that and more.
I know I shouldn't be jealous of a kid's bed, but in this case I am! To see the entire process, from concept to construction to finish, check out the awesome video Mr. Strong made.
He did an excellent job explaining and showing how he built the bed and goes over all the materials he used. And while this may be quite the project for some people, he makes it look super easy!
Please Share This With Family and Friends