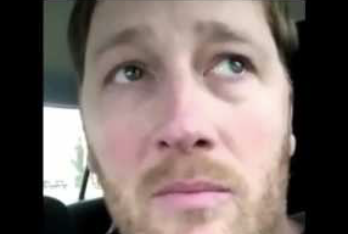 image via – youtube.com
What you are about to view in the video below, is a father, Rob Scott, who needs to share his truth, after overhearing a moment between another father and his son.  The child asks what Downs Syndrome is, and the dad answers, "It's a disease of not knowing anything".
This response deeply bothered Rob, whose son was born with Down's Syndrome.  What he experienced at that moment of hearing this other father try to probably simplify the condition for his child, was heartbreak.  He desperately wanted to correct what this father was telling his son, but didn't have the courage to speak up.
What you are about to hear him say was recorded a few minutes after this occurrence.  Rob was upset with himself for not speaking up, and felt the strong need to record what was in his heart, as a way of standing up for his son who has been the greatest gift of his life.
His intention in recording this footage, was in no way motivated by a desire to shame the father who responded to his son's innocent question in that way; he just needed "to karmically reset what just happened".  Rob's son, Turner, has been the greatest teacher about what the meaning of joy and love truly is.
He so aptly notes that the word "disability" is a term that encapsulates perception rather than fact.  His words brought me to tears; what he has to say is about so much more than Downs Syndrome.  Let us know your thoughts about this father's moment of soul-searching honesty.
Please SHARE This With Your Family and Friends