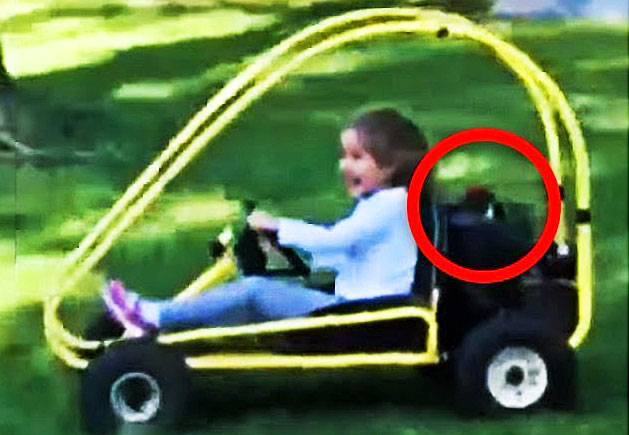 image via – youtube.com
A fun day at a family party turned into a nightmare for a little girl in Louisiana when she decided to take a turn on an old go-kart that the kids were riding on. The old gas powered machine was slow and seemed safe enough, plus all the kids really loved driving it around the yard at their grandparent's house. Naturally when little five year old Lani Use saw everyone smiling and having a blast on the go-kart, she wanted to try it out herself.
Before Lani was allowed on it her father had checked it over. He made sure the tires were okay and everything looked to be fine and in good working order. Her mother, Macie, tied Lani's hair up in a bun before it was her turn and then she finally sat down and was belted in. As she drove around the yard she laughed and smiled with happiness, she clearly loved go-karting.
Even though she was going back and forth slowly enough for someone to walk alongside her, Lani's hair began to come loose. She was suddenly yanked back violently towards the rear mounted engine; her blonde hair had gotten caught up in the gear belt and it was pulling her backwards. Everyone screamed out in horror and rushed to try and help while her grandfather grabbed a knife and cut her hair to free her from the machines grip.
The damage had already been done, Lani's right side of her scalp had been torn from her hairline to her neck and her skull was fractured in four places. She was rushed to the closest hospital, falling in and out of consciousness. Doctors there stabilized her before flying her to the Ochsner Medical Center for emergency surgery.
After repairing her scalp her doctors were not sure how she would recover, she'd suffered extensive damage to her nerves so only time would tell. After just two weeks in the hospital, Lani surprised everyone by going home!
She is making a swift recovery and yet still has a long road ahead of her. Her ordeal left her with seizures, vision problems, and weakness on the left side of her face, but her wounds have healed over and her hair is growing back.
Her mother simply wants Lani's story to be a warning for all the other parents out there about the hidden dangers of go-karts and other similar types of rear engine mounted machines.
Watch the video below for the full story:
Please SHARE This With Family and Friends