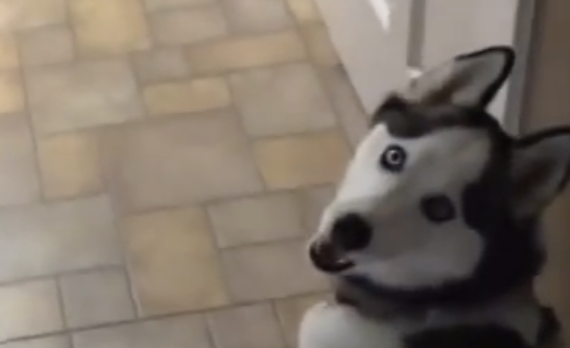 image via – youtube.com
When you have a new baby, it is very important to slowly acclimate your dog to this new situation.  Some dogs can't tolerate change and a new baby can be really stressful to them.  You must slowly prepare them during the pregnancy.  A good idea would be to play baby noise tapes, and rub baby lotion on your hands so that your cat can get used to the new sounds and smells.
You should set up the nursery furniture a few weeks before the baby arrives so your pup has plenty of time to investigate and get used to the new room. Purdue University did a study where they found 40 percent of children begin their life with a pet in the family.  Of that population 90 percent will live with these pets through their childhood.
Taking care of another living being is a wonderful way to teach your children skills that they will use throughout their lives. This is an amazingly precious moment when Piper the Husky meets his new sister Lily Ann.  According to his human Piper has done a great job being a big brother, and has been very gentle, loving and caring towards Lily Ann.  Watch their adorable first meeting below.
Let us know what you think! 🙂
Please Share This Precious Moment With Family and Friends