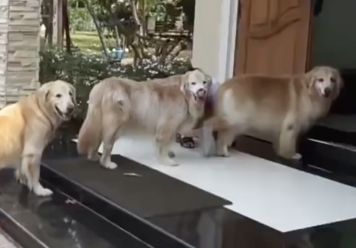 image via – youtube.com
Golden Retrievers love playing games, romping around, and living up to their name fetching balls and toys. Their sweet, friendly nature has made them one of the most popular dog breeds throughout the world and nothing demonstrates their natural laid back attitude better than this adorable video.
In it four sweet Golden Retrievers can be seen lining up orderly at the front door of their house after a long day of playing outside. They're each patiently waiting for their turn to have the dirt and grime wiped from their paws before heading inside. It's a sight every dog owner would love to see, especially those with hardwood floors!
What stands out the most about this clip is how calm and cool they all are, these dogs display more discipline and patience than most people ever would in the same situation. They're clearly well cared for as can be seen by their long, shiny, brushed coats and all the attention that's being lavished on them to keep everyone clean and comfortable. It's great seeing such dedicated owners who care a great deal about their four legged companions.
It's no wonder that so many people think highly of Golden Retrievers and the awesome dogs make wonderful family pets. Their sweet, loyal, trainable and even-tempered nature is perfect for families with young children. Those traits, along with their intelligence, also makes them excellent service dogs.
The list goes on and on and there are so many other great qualities to this breed, but the ones that stand out the most is their patience and gentle nature.
Please Share This With Your Family and Friends 🙂