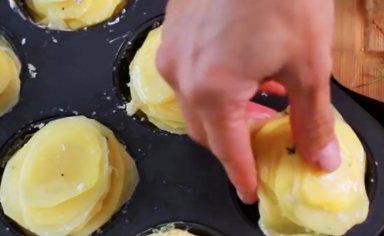 image via – youtube.com
There's a right way and a wrong way to go about doing practically everything, and then there's all the ways that fall in between those two opposite extremes. The awesome cooking idea shown in this video falls somewhere in the middle and makes you think outside the muffin tin.
In it the YouTube Home Cooking Adventure channel shows us how to use the bakeware for cooking up something other than traditional muffins. Instead, it features a novel way to use the tin to bake delicious Parmesan potato treats that your whole family will love and appreciate.
These are the perfect accompaniment for dinner instead of the same old baked and mashed potatoes we're all used to eating. Below is a list of ingredients and instructions on how to prepare them:
Ingredients: (Serves 4-6 people)
– 3 tablespoons of melted butter
– 2 tablespoons of Parmesan cheese
– 1 teaspoon of garlic powder
– 1 teaspoon of thyme leaves
– salt and pepper, to taste
– 8-10 gold potatoes, sliced very thin
– muffin tin (with 12 cups)
Instructions:
First, preheat the oven to a toasty 350° Fahrenheit and grease or butter up the muffin tin. Place all the potato slices in a large bowl and pour the melted butter, Parmesan cheese, garlic powder, thyme, and salt and pepper. Mix them all together so that everything is nice and evenly coated.
Take the buttery slices and place them into the muffin cups, making sure to stack and layer them as you go. Pop the muffin tin in the oven and bake for approximately 55-60 minutes. They'll be done when the top and edges turn golden brown.
They will be super hot, so after you remove them allow them to sit and cool for at least a couple of minutes before serving and if you'd like, sprinkle a bit more salt and pepper or Parmesan cheese on top.
These potatoes will be yummy and crusty on the outside and tender and delicious on the inside. They're great on their own or as a side with steak, chicken, and basically anything so try them out this weekend!
Please Share This Recipe With Your Family and Friends 🙂