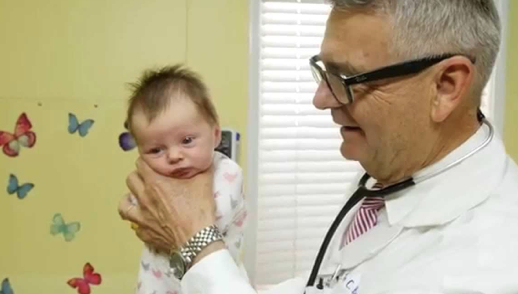 image via – youtube.com
For experienced parents or those dealing with a newborn for the first time, a baby who is crying in a wailing, inconsolable way, is really upsetting.  You have checked their diaper and fed them, and they are still crying hard.  What to do?  The video you are about to watch below, offers a miracle method, that will comfort the baby instantly!
Dr. Robert Hamilton, a pediatrician, has developed a technique of holding, that is best used on babies from 0 to 3 months.  Having practiced pediatrics for over 30 years, Dr. Hamilton frequently has to deal with crying babies who are in a strange place, and often are getting their first inoculations.
Watch as he demonstrates this holding position, that he illustrates on several crying babies.  He holds the baby in a 45 degree angle (protecting the neck), and secures their arms on their chest with his hand.  With his other hand under the baby's bottom, he shows different gentle rocking motions which instantly soothes the child.
The parents cannot believe their eyes or ears, for that matter!  He demonstrates the technique several times, so that you will be able to follow it easily.  What a lovely doctor he is; he doesn't say exactly why this works but I have a theory…I think the position mimics the baby's experience in the womb.
Have you tried this technique? Let us know if it works for you!
Please SHARE This With Family and Friends