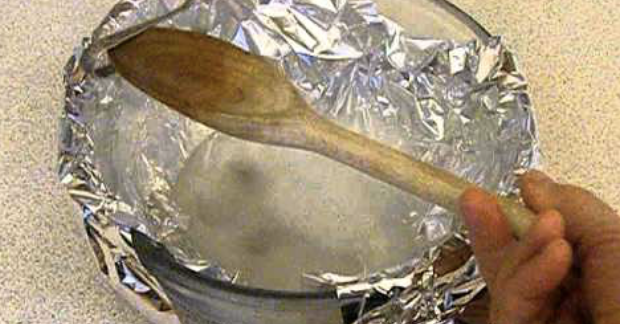 If you wear a lot of silver jewelry, that you constantly find becoming tarnished and unwearable, you will want to watch the following video.  I know I don't have the time to constantly run to the jeweler to have my stuff cleaned.  Not only does the following alternative work for cleaning silver jewelry, but for any silver serving items or home accessories that you suddenly realize are tarnished.
What is great about this remedy is that it requires very little elbow grease. To clean your silver at home, all that is required are the following items: a glass bowl, aluminum foil, salt, baking soda, boiling water and dish detergent.  For proportions of each item just watch this easy to follow DIY.
There is a miraculous chemical reaction that occurs within 10 minutes of soaking in the aluminum covered bowl; the bicarbonate of soda and the foil chemically attract to loosen the grime from the silver! Watch how easily your silver shines as it is removed from the liquid mixture and dried off with a cloth or paper towel.
An old toothbrush can be used to get into any small crevices.  I tried this right after watching this video and Voila!  It really works!  It actually works safely for all metals.
Please SHARE this with family and friends