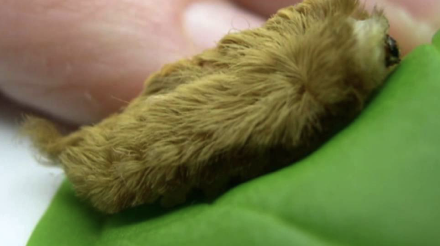 image via – youtube.com
The furry looking caterpillar you see in this video, that looks like a walking mini-toupee, is highly toxic. Its looks are deceiving and many people have learned that the hard, painful way. The unassuming insect appears to be harmless and its fuzzy hairs make it seem like it'd be soft to the touch. Any young child, or even an adult who didn't know any better, likely wouldn't hesitate to reach out and touch it!
If you ever happen to come across one of these caterpillars you should avoid them at all costs. They're known as puss caterpillars and over time they change dramatically as they transform into adults. After they finish developing they turn into furry winged insects that are commonly known as the southern flannel moth, and sometimes they're called puss moths.
The bugs only pose a threat to humans when they are in their caterpillar form and contact with them should be avoided if possible. However, it's their soft and fuzzy appearance that's highly deceiving and the hair-like spikes draw children to them and encourage kids to reach out and pick them up.
Leslie Howe, a mother of three from Georgia, captured video of the furry caterpillar in action at a local playground she brought her kids to. The older two were off playing while she sat with her infant son, when suddenly she spotted one crawling nearby.
Intrigued by the sight of it, she whipped out her cell phone and recorded it so she could look it up later. When she found out that the hairy bug was highly venomous she was shocked, and happy that none of her kids touched it or were hurt.
The caterpillars can also come into contact with skin when they fall out of trees or somehow land on people from above. They favor citrus, sycamore, oak and elm trees, as well as plants like roses and ivy. The puss caterpillars are found in southern parts of the United States and throughout Mexico and Central America.
Up until recently they've gone largely unnoticed, but now the caterpillars are in the news because of increased reports of them injuring kids and causing extremely painful reactions. What makes them so fearsome and nasty is exactly what makes them so cute; their fuzzy exteriors.
The furs are actually venomous spines which cause excruciating pain when they come into contact with people's skin. Reactions to the stings can be severe, with radiating pain, burning, nausea, vomiting, swelling, rashes, blisters, and numbness in the affected area.
Sometimes people develop chest pains or have difficulty breathing, and hives or welts may turn up on the sting site. The sting feels worse than any comparable type, beating bees, scorpions, jellyfish, and wasps. Some people have even started to convulse and reported that their pain went deep, causing even their bones hurt.
To lessen your chances of running into one of these bugs and to avoid any pain, stay vigilant and be mindful of the tiny creatures. Make sure that young children know the dangers of them and if you or someone you know does get stung, seek immediate medical attention.
You can also lessen pain by covering the area with tape and then ripping it off. That helps to remove any embedded spines and decreases the pain. Stay safe and away from this creature!
Have you ever seen on of these? Let us know
Please Share This With Your Family and Friends