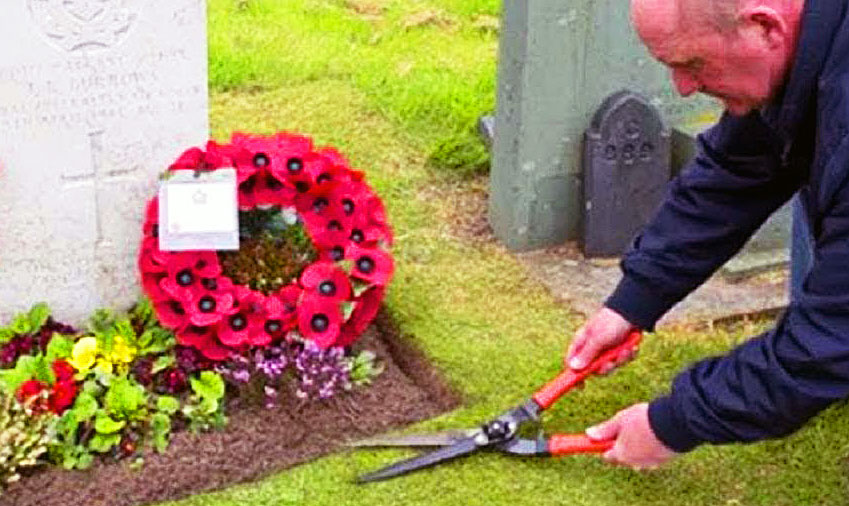 image via – youtube.com
Over twenty five years ago Wayne Hartshorne from Staffordshire, England had gone to visit his grandfather's grave at a local cemetery when he noticed something strange.  On his way out just as he was leaving, he happened to pass by the grave of an Australian RAAF pilot, Warrant Officer John Benjamin Burrows. Wayne was surprised that an Australian man had been buried in the UK, it was so far away from his home country, and he decided then and there that he would tend the gravesite and keep it nice out of respect for the World War II soldier.
Years passed by and eventually some friends of Wayne resolved to figure out the story behind the young man.  From time to time Wayne had tried to look into Burrows past but the information he found was limited in scope.  The two men he turned to for answers were Richard Pursehouse and Lee Dent, both of whom were military researchers.  They uncovered the story of Burrows and how he came to lay to rest in England.
Burrows had been born in a suburb of Melbourne, Australia back in July 1921.  After enlisting in Melbourne he was sent to Britain to train as a navigator with the 297 Squadron, which flew out of RAF Netheravon near Salisbury.  In 1942 he married a local woman named Edna Marjorie Ruth Preece and was sadly only with her for six months.
On April 5, 1943 he had been on a mission that involved dropping propaganda leaflets over German-occupied France that come under heavy fire.  The pilot tried to make it back to base but the damaged plane and heavy fog blanketing the area caused them to crash. Three airmen did survive that accident, but the pilot and Burrows were killed. 
His life had been cut short and he left behind a young widow in Staffordshire.  It is believed that she wanted him buried nearby rather than sent home to Australia and so the cemetery in Cannock, England was where he was laid to rest.  His parents, Alexander and Ada Burrows, picked out a gravestone and had it inscribed with the words "Still living, Still ours, Father and Mother."  
For years Burrows grave had been left alone and no one ever tended to it or came to visit.  His family were so far away and the only connection he had to the area, his widow, had moved to the US and remarried after his death.  When Wayne came across the grave that fateful day in 1992, he vowed to keep the memory of Burrows alive and every month since he has visited it when he goes to see his grandparents.  
A groundskeeper by trade, the upkeep work comes naturally to him.  He's planted flowers and trims the grass. He believes it's the least he can do and now that he knows the story behind the soldier his work has become all the more meaningful.
Watch the video below for the full story:
Please SHARE This With Family and Friends