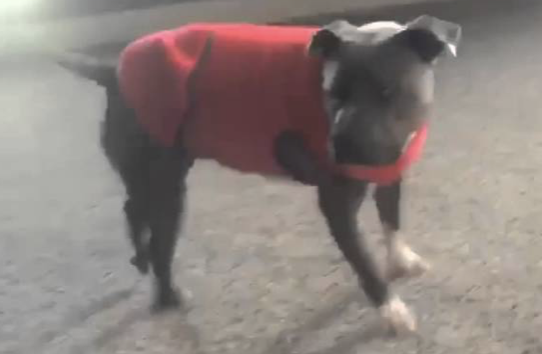 image via – youtube.com
Pit bulls are often viewed by many as dangerous dogs who behave unpredictably. People hear more bad than good things about them and the negative reputation attached to the breed follows them everywhere. There are many people who automatically assume that all pit bull dogs are violent, unpredictable, and aggressive animals.
This type of mindset is wrong, not every pit bull is dangerous or waiting to snap, and there are more good ones than bad. If you treat dogs with love, compassion, respect, and train them right, they can make loving and loyal family pets.
One woman uploaded a video displaying how a little love and the right environment can turn out a pit bull who is incredibly sweet, happy, playful, and non-aggressive. The adorable clip of a little girl doing cartwheels with her dog was uploaded to YouTube by Jacqueline Sloan Ziegler.
Her friend's four year old daughter Kailyn can be seen dancing around and performing acrobatics while Oakland, Ziegler's brown and white pit bull, follows her around. After Kailyn does a cartwheel Oakland tries his best to imitate her by turning his body head over heels.
His attempts at pulling the move off are hilarious and as best you can expect a dog to do. After his landing he adorably plops over and flails about on the ground in pure joy and happiness. Soon after that he makes a second cartwheel attempt and this one goes just as well as the first.
Everyone watching can be heard laughing in delight before the clip ends with Oakland and Kailyn on the floor wiggling around on their backs. According to Ziegler, Oakland was rescued in Chattanooga Tennessee back in January 2015. Her family adopted the now 18 month old pit bull from Pit Happens Rescue Inc. and he's the third dog they've taken into their home from the rescue organization.
The response to her video was huge and immediate with over seven million views in just a couple of days. The overwhelming response inspired her to set up a Facebook page for Oakland which she hopes will help the breed and show the dogs in a positive, loving light.
Once you see how sweet and adorable this pit bull is, it's hard to make negative generalizations about the rest of them.
Let us know what you think of this video!
Please Share This With Your Family and Friends