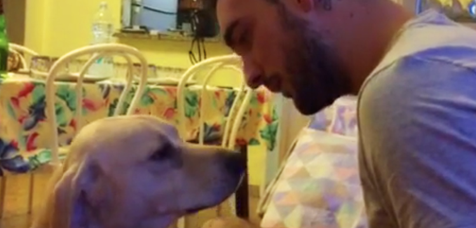 How do you react when you get caught doing something that you know you really should not be doing? Are you the type who denies any wrongdoing to the bitter end even if it's obvious how busted you truly are, or maybe you slink quietly away; out of sight, out of mind. If you're anything like this sweet yellow lab, you tuck your tail between your legs and beg for forgiveness!
The adorable clip of Ettore the Labrador has touched the hearts of millions around the globe and it's easy to see why. She had just been caught doing something very naughty by her owner, Anthony Federica Granai, and desperately wanted to get back in his good graces again. Apparently she made a hole in his sofa and he was understandably upset about the furniture being ruined so he scolded her.
As soon as he sat down on the couch Ettore lowered her ears and began to slowly crawl up into his lap to begin her grovelling. She went straight to work, giving him her most sorrowful and needy puppy-eyed look. Even so, Anthony continued to admonish her behavior which only seemed to make her try even harder for his love. She switched up her tactic and started to nuzzle her head fondly against him while snuggling closer and closer, but he was still upset.
That's when Ettore kicks her apology up a notch by placing both her front paws on her owner's shoulders and giving him a big warm hug. The move wins Anthony over and he can't help but hug her back, it's the cutest scene! Clearly her apology was accepted and the two made their peace. How could anyone stay mad at a dog like that for more than 30 seconds?!
Please Share This Adorable Video With Family and Friends 🙂