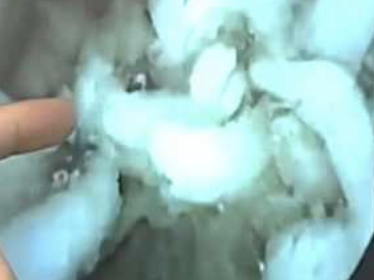 People on a budget and many college students have a go-to, fast-cooking food called Ramen noodles. The Ramen noodles discussed in this article are the processed  version.  They are very high in sodium, and contain TBHQ  (Tertiary-butyl hydroquinone).
Utilized as a preservative for inexpensive, processed foods, TBHQ,  (a biproduct of the petroleum industry), is a chemical that is difficult to digest and has questionable nutritional value.  The video you are about to watch, contains an experiment done to compare the digestibility of processed vs non-processed Ramen noodles.
A pill-size stomach camera was swallowed by the subjects, in order to view the digestion over time. Dr. Braden Kuo, a gastrointestinal specialist from Massachusetts General Hospital, conducted this experiment and discusses his findings in the footage below.  What you are about to see is a two-hour time lapse video in which you watch the stomachs' attempting digestion.
In actuality the ingested camera recorded 32 hours of digestion.  Watch for his conclusions and let us know if you think you will continue to ingest foods that contain TBHQ. Although further more controlled studies with a higher subject pool are needed in order to come to more definitive conclusions about the dangers of human consumption of foods containing TBHQ, other studies should be noted.
Studies done in lab rats, found that high concentrations of TBHQ caused tumors and DNA damage.  There are many foods that contain TBHQ.  A few that are commonly indulged in include: McDonalds chicken nuggets and fries; CHEEZE-IT Crackers; Microwave Popcorn and Pam cooking spray.
I don't know about you, but going forward I intend to examine the food contents to see if TBHQ is included, before I indulge!
Please SHARE this with family and friends