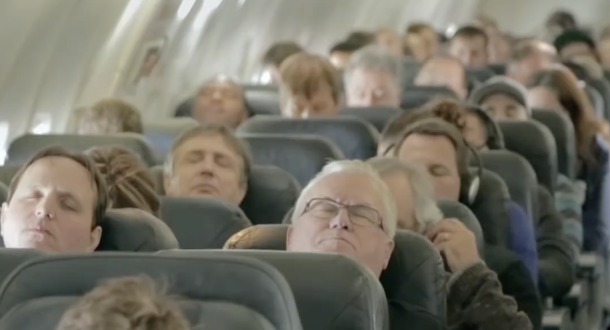 The folks embarking on WestJet, an airline known for great discounted fares, are in for the shock of a lifetime.  Airline travel has become more and more of a hassle as strict security measures have become a necessary intrusion into our lives..
Everyone literally dreads air travel. WestJet is not only known for discounted fares, but for staging unbelievable holiday stunts.  As the passengers are waiting to board they are entertained by a purple Santa on screen who astoundingly seems to know all of their names.
As they step up to talk to him he asks the usual Santa thing, "What would you like for Christmas?" All the adults and kids go along with the fun, as they tell Santa what they want.  They then board the plane, having been entertained and charmed by the WestJet Santa.
It was actually two flights of passengers headed for Calgary, who got to enjoy chatting with Santa.  The flights took off and that was that.  Well.. actually that was just the beginning of the fun! This video actually gave me chills! Watch what happens as the passengers wait for their luggage after they land.
Let's just say that WestJet Santa's elves were very busy in the short amount of time they had until the two flights landed.  What they accomplished will bring a smile to your face and a tear to your eye.  Enjoy!
Please Share This With Family and Friends