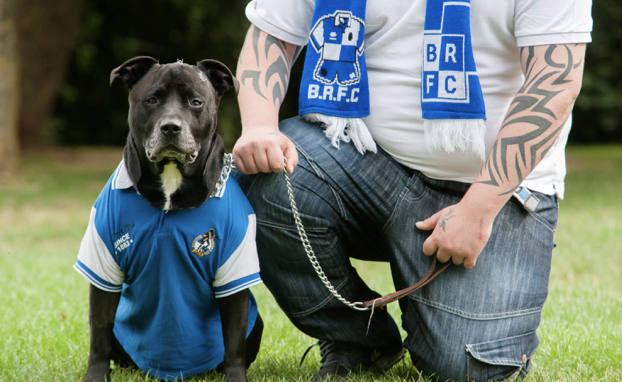 Animals are incredibly in tune and aware of everything around them, so when something seems off or strange, they tend to notice it right away. Our pets are very emotionally connected to us, when they see their human companions upset or crying, they often approach the person gently and offer them lots of licks, sweet puppy eyes, and tender reassurance.
Most often it is man's best friend, dogs, who react as if they know the person needs some extra love and affection. In a way, it's as if dogs have a 6th sense for these types of situations. They just feel and intuitively know what to do when humans are deeply upset and sad.
Twenty-three year old Byron Taylor knows this all too well. He says that his six year old Rare Welsh Bull Mastiff, Geo, saved his life. The normally gentle, peaceful, loving dog saw something was amiss with his owner and took action when Taylor was about to attempt suicide.
He had gone so far as to fashion a noose out of rope and left it for a moment to write a suicide note to his family. When he returned a few minutes later Geo had grabbed the rope with his strong jaws and wouldn't let go of it. Even when Taylor tried to wrestle it back, Geo held on tight and even snarled and growled uncharacteristically at him. Eventually the dog tore the rope to shreds, Taylor says "He chewed up the noose…
In a way, I think Geo knew what I was going to do." It certainly seems as if his faithful companion truly did know what was going through Taylor's mind and he stepped in at the right time to put a stop to it. Geo gave him a clear reminder of exactly what he had to live for, and in his darkest hour Geo showed him that he cared and was not about to let his best friend go out like that.
That was a few years ago, and now Taylor is at a better place in his life. However, Geo has only days to live. His veterinarian found an aggressive tumor on his head which turned out to be cancerous. It has since been rapidly spreading to other parts of his body and sadly his condition is incurable.
Taylor wishes that he could return the favor and save Geo's life, but he can only continue to stay by his loyal companion's side and give him the most love he can until he passes. For now, he plays with the happy dog and cherishes every precious moment he has left. Geo will always be in his heart, forever remembered as the dog who saved his life.
Please Share This Story With Family and Friends