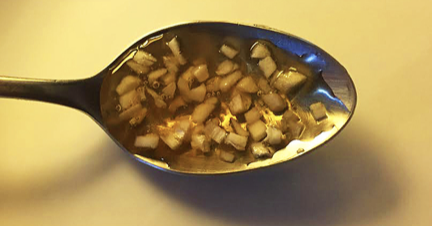 There is nothing like the smell of garlic simmering in one of your favorite dishes; the scent alone makes my mouth water, and it enhances the taste of many dishes. It can be roasted, stir-fried, or sautéed and added to main courses, veggies, sauces…and for once something that's delicious is actually really good for your health!
Garlic is actually a SUPERFOOD, as it has antiviral, antibacterial, anti- fungal and anti-oxidant properties. While you can benefit from garlic in it's cooked form, the multitude of ways that it strengthens the immune system, come from consuming it in it's raw form.
The video you are about to watch below is a tutorial of how to ingest it raw, mixed with honey, without tasting it or getting bad breath. Unfortunately, heating garlic reduces it's anticancer properties and prevents the enzyme Allinase from being released, which is essential for receiving garlic's most potent health benefits.
In addition to seeing exactly how to ingest this easily, the discussion in the video goes into how cutting the garlic releases the enzyme, and will keep you from getting colds and flu. Swallowing this combo of garlic masked by the sweetness of honey on an empty stomach, will also lower cholesterol levels and blood pressure, promote heart health and overall embolden your immune system against the free radicals that cause cancer.
Watch the video below for the full tutorial.
Please SHARE this with your family and friends