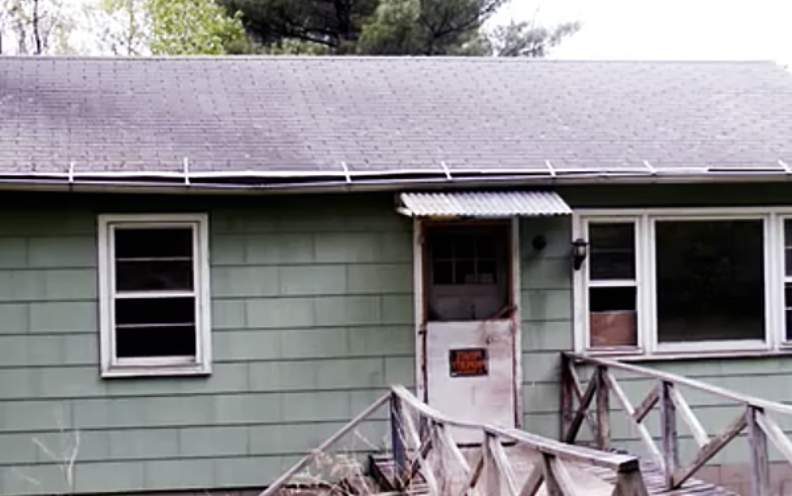 image via – youtube.com
About two hours northwest of New York City lies the tiny hamlet of Narrowsburg, New York. As of 2010 the village's population was just 431 people and Tina Spangler is one of the residents who calls it home.
After living in the hectic city for years she was ready for a change of pace and scenery. The peaceful, scenic mountains upstate drew her to them and in 2004 she moved to the Luxton Lake area part of town after purchasing a foreclosed cottage that had originally been built in the 1950's.
The house needed a lot of work but the structure had stood up against the elements over time and overall it was still in good shape. What initially drew her eye towards what the property could become was the hardwood floors, and after further inspection Tina decided she could do a lot with the place once she cleaned it up and did a few renovations.
Once the house was updated Tina set about filling it with items and antiques that she had collected over the years. She loves retro décor from the 1930-40s and while attending college in Boston she came across an apartment whose previous owner left behind a bunch of furnishings from that era.
Ever since then she's been steadily accumulating various pieces and adds anything interesting that she happens to come across to her collection. Even her refrigerator is a monitor-top type from the 1930's and the cupboards are filled with Fire King Jadeite cups and dishes.
In the living room a linoleum rug dating back to the 1920's graces the floor and protects the hardwood underneath. All throughout the cottage are unique and interesting pieces, from old glass bottles to Joseph Unger paintings that hang on the wall.
The end result is that when you go through the doorway into Tina's house it's like taking a step back time. The retro furnishings and comfortable surroundings transport you to another era and the overall feel of the house is that it's been lived in and loved.
When explaining her interior decorating style, Tina sums it up perfectly when she says "my goal isn't to have a perfect house, it's just to have a house full of things that I love and that have a history." From the looks of it all, it appears that she has accomplished that goal.
Check out the video to take a tour of Tina's 1950's Luxton Lake cottage and see all of the neat things she's collected over the years. She knows her stuff well and explains some of the items history in great detail.
All in all, the space she has created in the once run down building is warm, comfy, inviting, and makes it feel like a home again.
Please Share This Story With Family and Friends