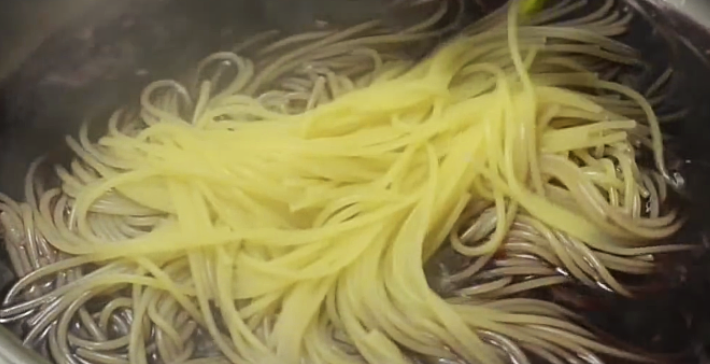 image via – youtube.com
Fill a large pot of water and place it on the stove with high heat. While you're waiting for the water to boil, peel and finely mince one clove of garlic. Shell and chop 1/4 cup of pistachios for topping. Once the water is boiling, add salt and one pound of thin spaghetti.
Use tongs to make sure all of the pasta is submerged. In a large skillet, melt one tablespoon of butter over medium heat and add the minced garlic, along with 1/4 teaspoon of crushed red pepper flakes.
Once the garlic mixture is slightly browned, pour two cups, or 3/4 of a bottle, of red wine into the skillet. After about 3-4 minutes of cooking, when the pasta just begins to bend in its pot, use tongs to move it into the wine in the skillet.
Cook for a few more minutes until the pasta is tender, but slightly firm to the bite. At this point, turn off the heat and add two more tablespoons of butter, stirring until thoroughly combined, to give the dish a creamy texture.
Portion the wine soaked spaghetti into dishes and cover the top with sprinkled chopped pistachios. Your meal is now ready to be served and enjoyed. Savor the rich flavor of the slightly spicy, garlic and wine infused noodles contrasting with the satisfying crunch of the green nuts.
This quick recipe is easy to pull together and delightful for the taste buds. Its simplicity is pure art in the form of gourmet cuisine, suitable both for entertainment and family meals.
Please Share This Delicious Recipe With Family and Friends