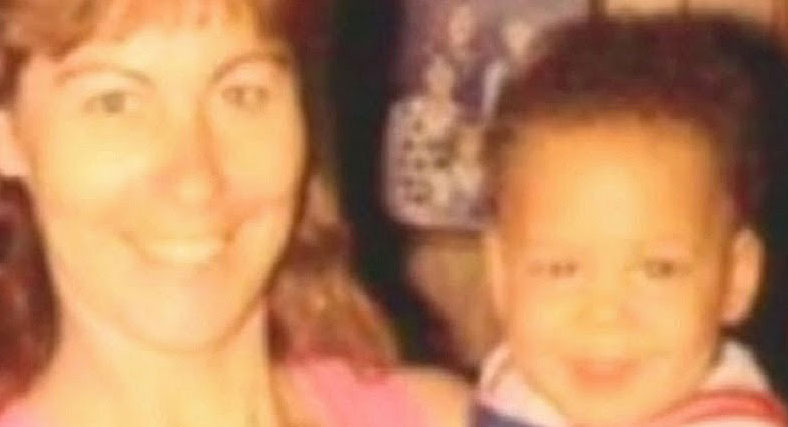 image via – youtube.com
Throughout the years Ingeborg McIntosh and her husband have fostered over 125 children at their home in Phoenix, Arizona.  Some stayed for just days at a time, while others were with them for years. The couple did their best to care for every kid that passed through, but one child stood out among the rest, a baby boy named Jordan.  
Jordan was just a newborn when Ingeborg first met him.  Since his mother could not properly care for him, he was placed in foster case.  After holding the sweet baby in her arms, Ingeborg knew she wanted to legally adopt him.  However, the boy's birth mother wouldn't agree to it because she wanted him to be adopted by a black or biracial family.  After waiting almost five years with no interest from any such families, Jordan's birth mother finally permitted Ingeborg to adopt him.  
Jordan grew up fast and was a really good kid.  He made everyone laugh and smile and stayed out of trouble.  After finishing high school he headed off to college, which was a bittersweet moment for his mom.  He credits her with raising him right and said he's glad it was her family he ended up with, he couldn't imagine a life with any other.  It's obvious the two are equally grateful for one another, they've always shared a close bond, from day one.
A couple of years after he graduated Ingeborg started to feel unwell.  After visiting the doctor she learned she had polycystic kidney disease and that there were no treatments other than a kidney transplant.  The devasting news shook the whole family, it was difficult seeing their mother unwell and in so much pain. While she was placed on the transplant list, it was long, and no one knew if or when she'd ever get the kidney she so desperately needed.  Her best bet was to find a direct donor, someone who was a match and willing to donate one of their kidneys specifically to her.
Without telling anyone what he was up to, Jordan set up testing to see if he was a match for his mother.  The results showed that he was and to him it was fate. She had saved his life by adopting him when he needed someone to care, and in return he would save hers by donating a kidney and showing how much he cared.
When Jordan told his mother that he was a match she told him not to go through with the donation.  No matter how much she protested, he didn't care, he was firm and intent on giving her a kidney. After their successful surgeries they both healed nicely and suffered no complications.  Ingeborg regained her health and quality of life, while Jordan feels like he's finally showed her just how much he loves and appreciates her.
Watch the video below for the full story:
Please SHARE This With Family and Friends