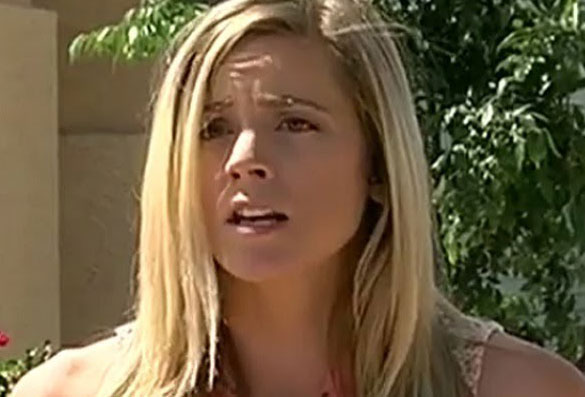 image via – youtube.com
When most people hear a knock at their door at night, and they're not expecting anyone, they ignore it and hope whoever it is goes away.  Many don't even bother opening the door for obvious reasons, it can be very dangerous and lead to terrible things.  
When Jessica Penoyer heard a knock on her door after dark, she initially thought to ignore it, but something told her to check and see who it was.  When she looked out the window, she saw her 5 year old neighbor Salvador Cicalese, who everyone calls Sal, clutching his 2 month old sister in his arms.  It was late and she was surprised to see the children out by themselves, so she immediately opened the door to see what the matter was.  
At first Jessica thought she heard Sal tell her that his dog died, but when she repeated what she'd initially heard back to him he said "no, my mom died in the shower, can you take care of us?"  Shocked, Jessica called 911 and ran over to the neighbor's house to check on Sal's mother, Kaitlyn Cicalese. She found her in the bathtub unconscious with the water still running. The tub had been filling up and if Jessica hadn't arrived when she did, Kaitlyn could have drowned.  
It turned out that Kaitlyn had suffered a seizure in the shower after she had put her children to sleep.  All she remembers is turning the water on and then waking up in the hospital, it's the second time she has had a seizure since she gave birth to her infant daughter.  When she fell, Sal had been in his room when he heard the loud thud and went to see what happened. That's when he found his mother lying in the tub unconscious with blood coming from a wound in her head.  
Thinking she was dead, Sal tried his best to stay calm and get help.  He went and got his 2 month old sister and wrapped her snugly in a blanket before placing her on the couch.  He couldn't get the front door unlocked so he headed to the garage. Since he was too short to reach the garage door opener, he had to use a stool and on his first attempt he fell over.  Thankfully he landed on a pile of shoes so he didn't get hurt, and on his second try the door opened. He went back and got his little sister then headed over to Jessica's house, and the rest is history.
After hearing what he did, Sal's mother believes that he saved her life that day.  She could have drowned or bled out from her head wound if he hadn't gotten help right away.  In the end, Sal was awarded for his heroism by the local San Tan Valley, Arizona fire department.  They gave him an honorary certificate, patch, shirt and helmet in recognition for what he did. He also got a nickname from the firefighters, "Super Sal" which is more than fitting. 
Watch the video below for the full story:
Please SHARE This With Family and Friends