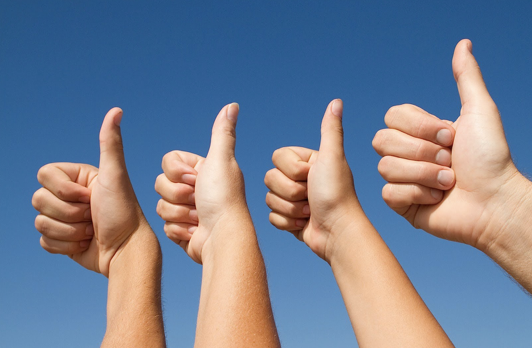 There are many different ways in which an individual's personality has been linked to certain physical parts of the human body. The one attribute that stands out above the rest seems to be our hands. They often hold the most information about our lives and can reveal subtle clues in regards to many things, such as the way we act, make choices, and behave in general.
One good, and very simple, example is that we often compare and contrast left handed people with individuals who are right hand dominant. Those who are left handed are seen as better artists and become angry and scared easier than their right handed counterparts. Alternatively, in palmistry the lines on the palms of hands are closely examined, which can indicate our character traits, personality, and destiny in life.
Another way in which we can analyze our personalities is by looking at the thumb. By determining the ratio of the first and second half of the thumb finger you can figure out how you are likely to behave in love relationships.
All you need to do is look closely at your thumb and then compare it against choices A, B, and C to see which one your finger matches up the best with. Once you choose the closest match it will reveal certain personality aspects that are commonly associated with your finger type in terms of how you act and react in your intimate relationships.
If you fall under type A the top half of your thumb is longer than the bottom portion. This corresponds to having a faithful, passionate, and borderline obsessive approach to your partner when you fall in love. You are open and honest and expect the same in return.
However, you also tend to disregard other important parts of your life, like work and school, and instead focus all of your attention on your lover. This can lead to them perceiving you as overbearing and needy, and may eventually scare them away.
If the top and bottom portions of your thumb are equal in length, then you're a Type B. You have an objective approach to relationships and prefer to move deliberately and slowly, rather than rushing into things emotionally. You are almost always cool, calm, and steady in both life and your relationships. However, this can lead to uncertainty in your relationships, as your partner may have trouble reading your emotions and feelings.
If the bottom half of your thumb is larger than the top half, you're a type C. You like to observe and listen to the world around you and when it comes to trust you are very reliable, but other people have to earn yours. You hold back a lot of emotion and feelings, preferring instead to think things through, so you don't overreact or rush into a relationship. This can lead to many missed chances and connections, since the people you may like or love end up finding out about too late or not at all.
Take a moment to look at your thumb, follow the chart, and find out if what you think describes your relationship personality matches up with your thumb-type description. All in all, this is a neat, fun, and different way to take a moment to yourself in which you can reflect upon, and dig a little deeper into, what makes you who you are. As always, have fun and enjoy!
Watch the video below for more information:
Please Share With Family and Friends