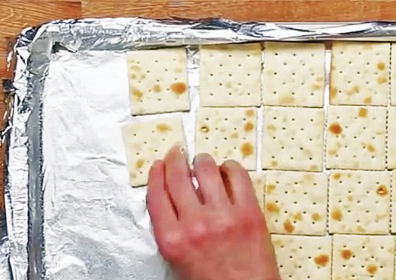 image via – youtube.com
I don't know about you, but when I want to indulge in a dessert, there is nothing better than the combination of Sweet and Salty.  Honestly it does something to the pleasure center in my brain that makes it a crazy addictive combo. Because I love this combination, I was drawn to this video that you are about to watch below.
I love making things from scratch if they are easy to follow, and have a really mouth-watering recipe, like the one presented by Lori Nolan of the Tasty YouTube channel. She and her mom tasted this at a party 20 years ago, and lucked out by getting the recipe. This "cracker candy" is a perfect dessert for any occasion, and people will be amazed at the secret ingredient…SALTINE CRACKERS!
The tutorial below will show you how to make a Caramel Sauce from Brown Sugar and Butter.  Watch how she pours this over the Saltines and a final layer of Chocolate Chips and Pecans.  Then see how she turns this into a delicious crunchy Bark. Have you ever seen anything look so tasty and delicious in your life?
I'll be making this at some point this week! Will you be trying out this yum recipe? Let us know how it turns out!
Please SHARE This Delicious Recipe With Family and Friends