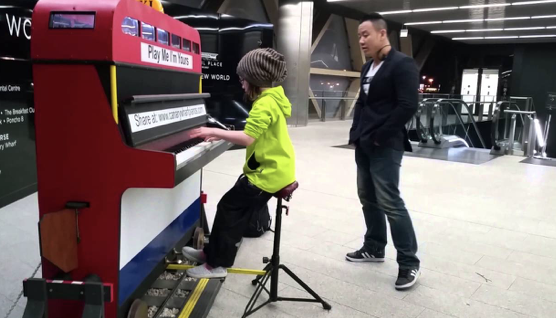 image via – youtube.com
There is a red piano sitting in the middle of a busy metro area that says, "PLAY ME I'M YOURS!"  It sits in London's Canary Wharf station, one-of-many "street pianos" set up by British artist Luke Jerram.  Luke's hope is that these pianos, decorated and hosted by artists all around the world, will engage people in a way that will bring enrichment to their urban environment. There is nothing better than the magic of music to bring people together and sometimes somebody's musical skills are so advanced it will make your jaw drop!
In the video you are about to watch below, a 9-year old little girl sits down at the piano, and begins to play. Her name is Asta Dora Finnsdottir, from Finland, and she is on vacation with her parents.  When she first sat down people probably thought she would play 'Hot Cross Buns' or 'Mary Had a Little Lamb'. But Oh how wrong these unsuspecting onlookers would be. As she begins to play a crowd begins to surround her and the piano in disbelief!
The situation must've been so surreal in person. She starts playing Mozart's "The Turkish March".  But she isn't only playing it, she is hitting every note with perfection, precision and perfect timing. This 9-year-old savant plays with such unexpected magnificence, it almost feel like Mozart himself has taken over her hands and his playing the concerto himself!
Her talent is so far beyond her years and I'm sure we will be hearing much more from her in the coming years. She inspires such passion and delight, as her fingers nimbly produce the music of a virtuoso!  BRAVO! ENCORE!
Watch the video below and enjoy:
Please SHARE This With Family and Friends