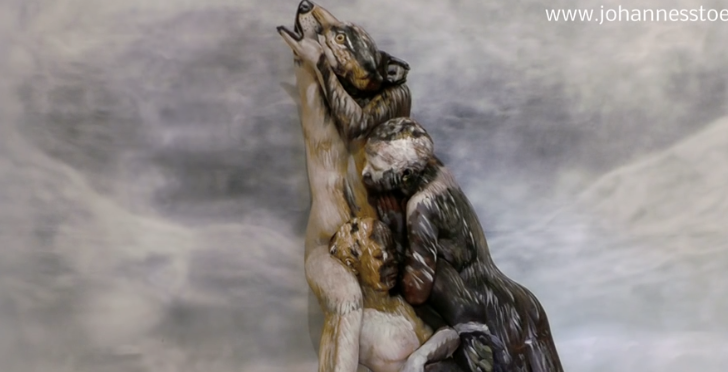 Look closely as you watch this video of a wolf howling towards the sky as snow swirls down in the backdrop. Its head is tilted back as it calls out its wolf song and gusts of wind can be heard in the lonely scene. Do you notice anything in particular that stands out or is different about this wolf?
If you haven't realized it yet, keep watching as the secret is revealed about 20 seconds into the short clip! That's when a person peels off from the animal's back, gets up and walks away, showing that the wolf is actually three people painted and posed to look exactly like their wild counterpart found in nature!
The artist who created this piece, titled "The Wolf," is Johannes Stötter. He's a master at creating hyper-realistic optical illusions out of just two basic mediums; human models and body paint. Stötter begins by expertly painting extremely realistic details and attributes onto either one or several model's bodies. He then positions and poses them in a very precise and exact arrangement. By doing this he's able to trick the viewer into believing that they are looking at a photo or video that was captured by a professional in the wild.
At first glance his images appear to be straightforward, it's only upon closer inspection that one realizes the picture is actually several models. It's amazing and crazy how real-life spot on he's able to make his pieces look!
Part of the magic behind the visual trickery on display in Stötter's work has to do with optical illusions, which are all about the eyes-brain-perception connection. The eyes visually perceive an image which the brain processes as not fitting in line or matching the stimulus source that it's coming from. Basically, it's when you look at something and end up seeing something else completely different, so you look at X but think you're seeing Y. Generally speaking, there's all sorts of different types of illusions but optical ones, aka visual illusions, happen to be best known sub-category and this wolf piece is a great example of one.
Stötter's work has made him world famous and it's clear to see that he truly has a unique gift. He has won many awards, including being named the 2012 World Bodypainting Champion, so check him out for more amazing images and watch the video to see how the added movement makes his images look even more real.
Please Share This With Family and Friends 🙂