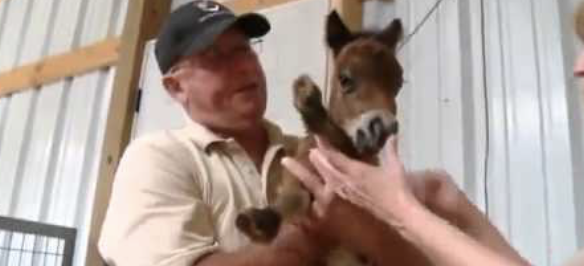 Before this miniature horse was born, she was expected to be a truly special and unique horse.  Named ITTY BITTY HOPE, by her owners Linda and Jim Woods, they and breeder Diana Gilger,  first "met" her during her mother's ultrasounds.  As the pregnancy progressed, they came to the realization that Hope would be one of the smallest horses on earth;  her mom barely looked pregnant!
In the video you are about to watch below, you will meet adorable Itty Bitty Hope, whom it turns out actually tied the world record for the smallest horse that has ever existed.  She is being socialized, by Diana and her family, to get her ready for the truly wonderful role she will play in peoples' lives.
You see, the Woods own a miniature horse therapy business, called "Mini Hooves of Love".   Horse therapy, for people trying to recover from severe trauma in their lives, has been done with normal size horses for decades.  When you get a look at darling little Hope, it will be easy for you to imagine her impact on people suffering from emotional damage.  The extreme emotional pain of PTSD on soldiers, and people who have suffered unthinkable abuse, has been eased tremendously through horse therapy.  Itty Bitty Hope, should indeed bring hope back, into the lives of many suffering people.
Please SHARE this wonderful story with your family and friends