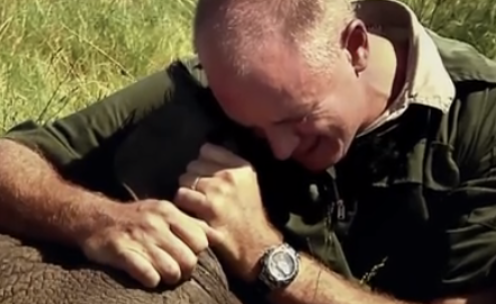 image via – youtube.com
Park rangers in South Africa found three rhinos brutally hacked and left to die by poachers who were after their horns. Luckily, two rhinos were found alive and given the names Themba and Thandi. Themba, a male, managed to survive 24 days before he succumbed to weakness and drowned while getting a drink at the watering hole.
His plight touched rescuers deeply and they wish to let the world know and see what these animals are going through. Thandi, a female, fought hard for her life and slowly recovered. She was the only one to make it through and live.
Three years after the brutal attack Thandi had become pregnant and was due to give birth to a young calf. When photographer and filmmaker Adrian Stein found this out he quickly went to find her in the bush at the Kariega Game Reserve on the Eastern Cape of South Africa.
He had been documenting her journey since the attack and wanted to capture Thandi's pregnancy. The story of her plight was widely followed and had since become a national inspiration. Rangers accompanying Stein tracked Thandi down and when they first caught sight of her a little calf was standing by her side. She had given birth shortly before their arrival to a healthy baby whom they named Hope.
This touching story will hopefully be a catalyst for change and promote action to bring an end to the brutal attacks inflicted on these endangered animals and others like them. Currently there are less than about 25,000 wild African rhinos in existence and this baby, what she stands for and her survival, are vital to their recovery.
The mother and child have already inspired many people to take action, and if their story is spread, it can only promote more awareness, understanding and conservation efforts.
Please Share With Family and Friends, We Need To Stop These Poachers!