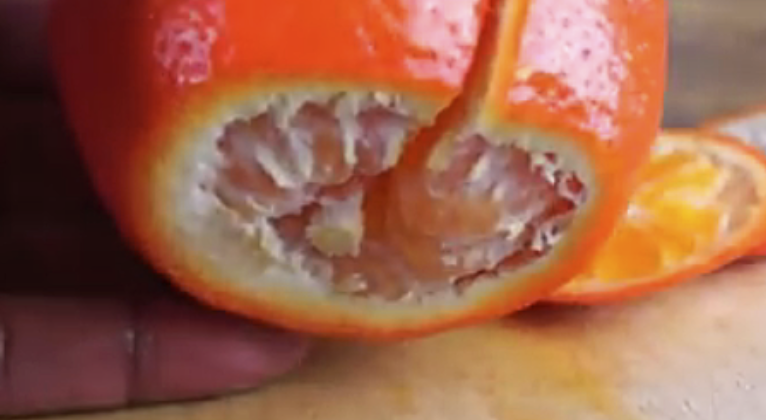 image via – youtube.com
If you have ever struggled through attempts at peeling open an orange then you need to see this video. It shows you how to properly go about removing an orange rind in a simple, quick, and efficient manner. The whole process can be done with only 3 cuts in less than 60 seconds.
Best of all, it leaves a minimal mess and reduces the likelihood of orange juice getting sprayed in your eyes. Start by positioning the orange down securely so that it sits length-wise. Carefully take a sharp knife and slice off each of the 2 ends. Then slice width-wise down the middle, but only cut to the center and not all the way through, so you still have one in-tact piece.
Take the orange and open it up at this last cut. It should unfold and reveal the delicious inner fruit pieces that you can now easily peel off the rind and eat. And voila the perfect way to peel an orange your probably never knew existed!
After learning this I want to challenge a friend to an orange peeling contest to see who can do it fastest. It'd be a quick way to make a buck if we bet on it….But seriously, try this technique next time you eat an orange and definitely watch the video to really see how it's done.
Try it out and let us know if it works for you!
Please SHARE With Family and Friends