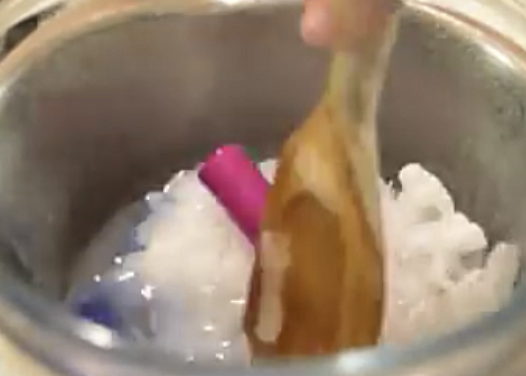 image via – youtube.com
With beautiful warm weather comes annoying biting insects. Now that bug season is upon us it's time to start breaking out the repellent, zappers, and swatters. Nothing ruins a picnic or backyard BBQ faster than a swarm of disease carrying mosquitoes buzzing around.
However, instead of driving yourself crazy, and slapping yourself silly trying to kill the little suckers that land on you, turn the tables on the mosquitoes. Make the environment and air around you a safe, mosquito-free haven by perfuming it with citronella candles. Citronella oil is derived from the leaves and stems of lemongrass plants and it makes an excellent, all natural insect repellent.
Studies have shown that it is effective at repelling mosquitoes, and if you burn it off through candles you can keep an area skeeter-free. Which leads us to this awesome video tutorial on how to make citronella candles!  The whole project is cost effective and easy. Forget buying expensive candles at the store, these are even prettier and can be custom colored.
All that it requires is wax pieces, candle wicks, citronella oil, jars (mason jars are perfect- resealable, cheap, and sold everywhere), plus a bowl and boiling water. First determine how much wax you'll need by pouring it into the container you plan on using as a candle holder. Boil a pot of water and then place a glass bowl in it.
Pour the wax into the glass bowl and allow it to completely melt. If you want to color the wax simply add in a wax crayon or two and melt it down. When all the wax and crayons are fully dissolved mix in a teaspoon of citronella oil. Attach the wicks to the bottom of the jars with a small piece of tape, then carefully pour the wax into the jars.
To keep the wicks in place as the wax sets, hold them up between two chopsticks over the top of the jar. Once the wax is firm again trim the wick to about an inch above the candle line. One last thing I want to mention is that many store bought citronella candles use a synthetic type of citronella which is vastly inferior and not as effective as the real essential-oil type.
They are often labeled "citronella scented" but don't contain any of the natural variety's properties, so they won't repel bugs. Also, don't use tiki torch oil/fuel, make sure to use citronella essential oil in the candles. I hope you enjoy the video and candles as much as I have been.
Let us know how yours turned out! 🙂
Please Share With Family and Friends