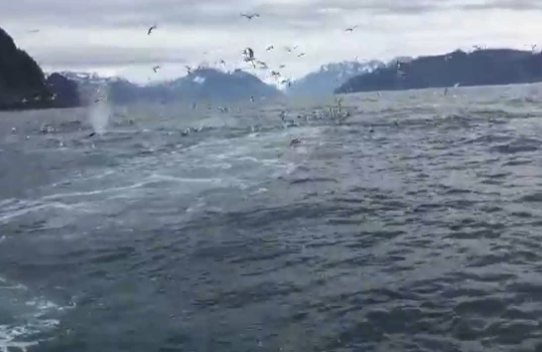 For many people a trip to Alaska is a dream vacation. The state is filled with nature's wonders, from the scenic rocky coasts to the enormous snowy inland peaks. There are millions of acres of untamed pristine wilderness and thousands of miles of coastline to explore.
With limited roads and ways to access the wilds, one of the best ways to get around and see things is by boat. Boating is big business up in Alaska, whether it's for fishing, sight seeing tours, transportation, or recreation. One man, Brad Rich, was recently out on the water off the coast of Seward, Alaska with his friends.
The group noticed a bunch of seagulls off in the distance and that there was a pod of humpback whales feeding nearby. In hopes of capturing some whale action on film, Dan whipped out his camera and started recording the area where the sea gulls were making a racket.
He trained the lens on the birds and a couple of moments later his efforts paid off. The whales breached not near the gulls, but instead right in front of him! At least 10 of the giants poked their heads out of the water as they gulped down fish right off the stern of the boat.
Brad was beyond shocked and excited, as his reaction on the video shows, and ended up capturing amazing footage of the once in a lifetime experience. Check out the video to see one of nature's many awe-inspiring spectacles close up and naturally occurring. It's a pretty incredible sight to see these majestic, gentle giants feeding on fish all together at once.
Please Share This Amazing Encounter With Family and Friends