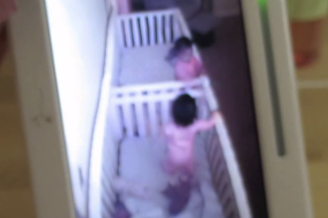 The special bond that twins share has been well-documented, beginning with their time shared in the womb and continuing throughout their lives.  They are so fortunate to experience a lifetime of closeness; from the moment they enter the world they are blessed with a best friend.
We have watched many movies, in which twins come up with all kinds of fun secrets and plans, as they romp through their childhood together.  You expect to see that kind of behavior as they mature.  In this video, two adorable twin girls in cribs, are being watched by their mom on the baby monitor.
Standing in their cribs giggling and "baby bantering" past bedtime, Miya and Keira, are suddenly surprised by mommy Judy's voice coming through the monitor.  These tiny "partners-in crime", immediately have an identical response, that made me laugh out loud!  Enjoy this adorable moment.
Please Share This Hilarious Moment With Family and Friends 🙂