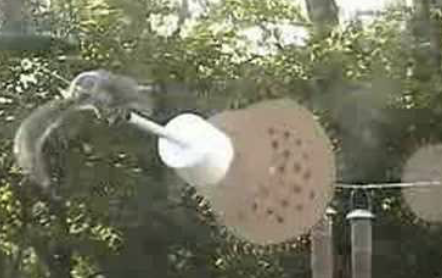 image via – youtube.com
Andy Hageman's dad is a real bird lover, as you will see in the video you are about to watch below.  He wants to feed many beautiful birds from his bird feeders, only he has one big problem…SQUIRRELS!
The squirrels that live in his backyard have insatiable appetites, and won't leave the bird feeders for the intended birds.  Shooing them off isn't an option anymore, so Hageman's dad devises a scheme, that required a considerable amount of effort that most people would not invest.
Determined to keep the squirrels away he constructs an ingenious obstacle course. After it was completed he set up a camera to capture the action.  Set to the theme of "Mission Impossible", the following footage is hilarious!
When he reviews the tape he sees that these squirrels have skills beyond imagination; not deterred, Mr. Hageman makes the course more difficult!  You will be chuckling throughout, until the end when the laugh out loud moment may land you off your chair!
Watch the video below it will totally make your day!
Please SHARE This Hilarious Video With Family and Friends 🙂