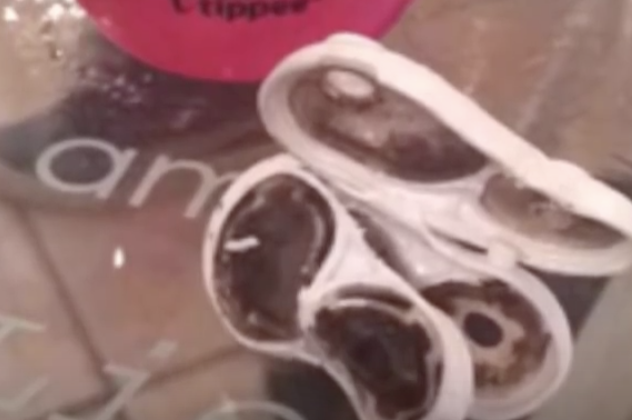 image via – youtube.com
Although having young children get sick is a normal part of parental stress, what you are about to hear in the video below, is just horrifying!  Having your child become ill, for no apparent reason, and to have symptoms get worse over time instead of better, is any parent's nightmare.
Penny Powell recently shared photos on Facebook, after a good friend of hers found out why her son had been chronically ill.   The boy's father, Simon, had a suspicion as to why their young son wasn't getting better, and he turned out to be right.  The boy's 'sippy cup' had a leak-proof spout, and when the Simon inspected it, he noticed an awful odor coming from it.
This feature, which makes these cups so convenient for parents, is sealed.  When Simon cracked the spout open with a knife, he found something growing there that explained his baby's illness…MOLD!!
His son had been drinking from a mold infested cup!  Needless to stay he was outraged, disgusted and frightened for his son's well-being.  He took pictures and when Penny posted them on Facebook, other parents began sharing the same thing.  They had all been using Tommy Tippee Cups.
The company's response to this finding was quite lame, as you will hear in the video; it should be said that there are several other manufacturers that have a similar design in which the sealed spout is a breeding ground for mold.  As mold can cause sinus infections, throat irritation, asthmatic symptoms, and chronic eye and skin irritation, it is strongly recommended that any such cup be discarded.
Please SHARE this with your family and friends