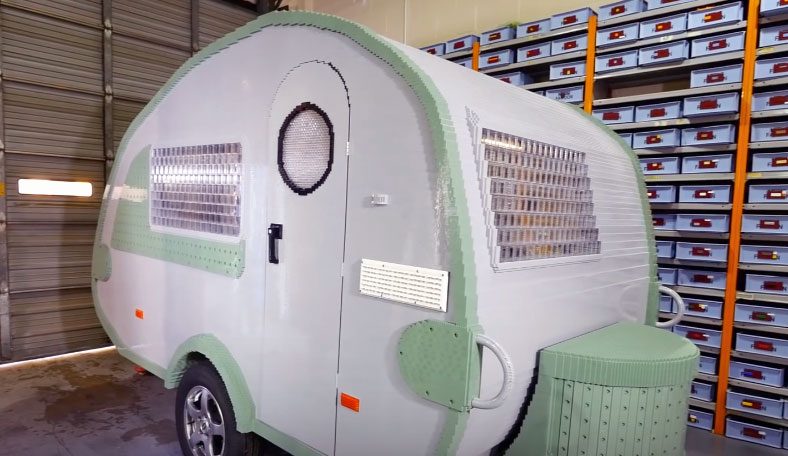 image via – youtube.com
At first glance, this camper appears to be normal, albeit a little quirky for some people's tastes. It's life-sized and fully functioning with a tow hitch, safety lights, and everything else you'd need to haul it around. However, upon closer inspection something a little strange comes to light about this caravan, which sets it apart from any other RV or camper you have ever seen before.
That's because it's made completely out of thousands of LEGO pieces! The camper was special made for the 2015 Motorhome & Caravan Show that was held at the National Exhibition Center in Birmingham, UK. It was unveiled there and placed on display this past October 13th-18th.
According to the show's organizer and marketing campaign director James Bissett "We wanted to create something truly unique to celebrate 130 years of leisure caravanning and we are absolutely delighted with our record-breaking model." Also present at the unveiling was a Guinness World Records adjudicator who presented an official certificate recognizing the camper as the biggest LEGO camper ever. The last camper that held this honor was made from just 20,000 LEGO pieces, a far cry from this one.
That's because to build this world record holding camper it took a whopping grand total of 215,158 LEGO bricks. In addition, a team of 12 professional LEGO builders worked for well over 1,000 hours for 12 weeks straight. When it was all said and done the project measured in at 2.2 meters tall and 3.6 meters long, the size of other similar types of campers on the market.
Watch as the life sized camper comes to life in this cool video that shows the entire process sped up, from brick number one to brick number 215,158. The type of caravan they chose to replicate is what's called a "teardrop" style caravan.
It features all the modern amenities you'd expect, such as electric lighting, a sink with running water, and a table and seats that transform into a bed. The designers didn't stop there though, they thoughtfully chose to include a chess set, toothbrushes, and even a partially stocked fridge and cooking stove, all of which were expertly crafted out of LEGOs!
The show's organizers definitely had the right idea, the caravan model is really unique and unexpected. It's something the whole family can enjoy and check out, and who doesn't love LEGOs?!
Please Share This With Your Family and Friends 🙂