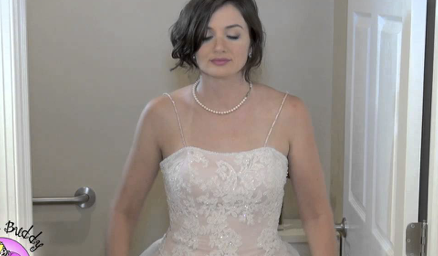 image via – youtube.com
A woman's 'Wedding Day' is for many, still one of life's highlights. The anticipation, the planning and of course THE DRESS! Finding the right dress is the greatest, but the look isn't everything; the comfort of the dress overall, and the ease of walking and dancing also matter.
Even if you manage to find a dress that works both esthetically and practically, there is still one issue that often gets ignored and is quite important. How will you go to the bathroom in this often voluminous item, without having to be helped by three bridesmaids?!
After all, no one wants to spend their wedding day in a dress that has been dipped in the toilet! The greatest inventions are those that fulfill a universal need, that no one else has thought of. A woman named Heather was the one person who did think about this, and actually invented an  ingenious device that will easily allow brides to go to the toilet in privacy and without incident!
"The Bridal Buddy" is a jaw-dropper; the following video shows how easily it works, and no one will ever know you are wearing it on your big day!
Let us know whether you would use this, and what you think of her invention.
Please SHARE This With Your Family and Friends 🙂