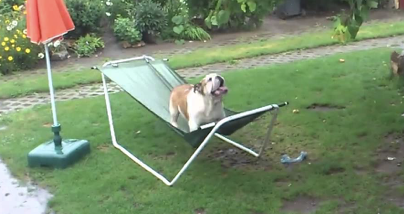 image via – facebook.com
When it rains, it's time for this Bulldog to play! The extremely excited tan and white ball of joy looks like he's having the time of his life while trying out a backyard hammock in the pouring rain. He slips and slides down the fabric like it's a seesaw and manages, for the most part, to keep up with it without tipping or flying off.
The sight of him jumping around on his unique new play toy is just too cute for words, check it out and see for yourself what an awesome time he's having! The hilarious Bulldog's name is Columbus and he lives with his human companions over in Hungary.
Even though most people and other animals try to not get wet and actively avoid the rain, Columbus sees the inclement weather as an opportunity to create his very own slip n' slide. While his owner looks on and films from the dry safety of his house, the big puppy excitedly romps around on the hammock like it's the greatest thing in the whole entire world.
He barks, chomps at the rain drops, and throws his weight around before finally biting the side of the hammock and collapsing in a wet, furry ball of exhaustion. Columbus has definitely found a way to make being out in the rain look like a whole lot of fun and if he keeps at it he'll be in great shape and stay healthy for years to come.
He really puts to rest the common assumption that many people have, which is that Bulldogs are lazy because of their short, stout build and wrinkly folded skin. That's often not the case, many of them absolutely love being active and jump at every chance they get to play around.
It's no wonder that Bulldogs are one of the most popular and beloved dog breeds. They're adorable, sweet, fun, and the videos of them in action are always pretty much guaranteed to be pure entertainment. So if you want to smile, don't forget to check out his rainy day backyard antics.
Spread the happiness and enjoy!
Please Share This With Family and Friends 🙂