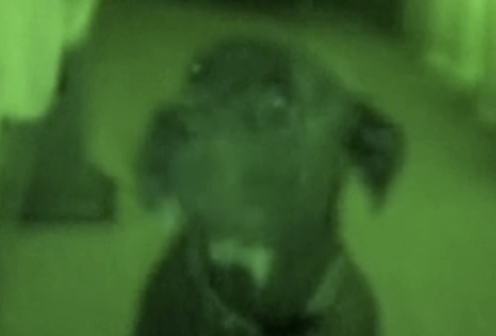 image via – youtube.com
Pit bulls get a bad wrap because of their tough personalities, but inside the solid muscle and thick bone structure is a sweet and squishy heart. The pit in this video seems to have been an early peeping bird in a past life because her morning routine is flawless. She ever so gently wiggles up to her human's bed and coos a soft cry of wake up. The man politely replies that its not quite time to get up yet and the dog reluctantly slinks away.
About fifteen minutes later, the grey dog comes back again! This time a little more persistent, the mongrel almost starts talking to her friend as if to explain to him why she believes that is in fact time to get out of bed. Likely, she's detailing the itinerary of her morning and how he is major part in getting her day going.
The man has to get out of bed so that she can be let outside and then back in again to be served her sunrise meal. Then she'll need to go back out again to chase squirrels and generally just patrol the area. It's an important job for a dog in the morning. But alas, the human is still reluctant and shoos the poor girl away.
Finally, after another twenty minutes of unattended yard go by, the patient pup tries again. Still as unobtrusively as possible, she sounds her nurturing alarm and insists that she will not give up. Sweet success! The sleepy fellow agreeably begins departing his haven in order to assist the ambitious canine at his side.
With great excitement the dog realizes her achievement, jumps her front paws up onto the bed as if to say thank you, and is off to start her day.
Please SHARE This With Family and Friends