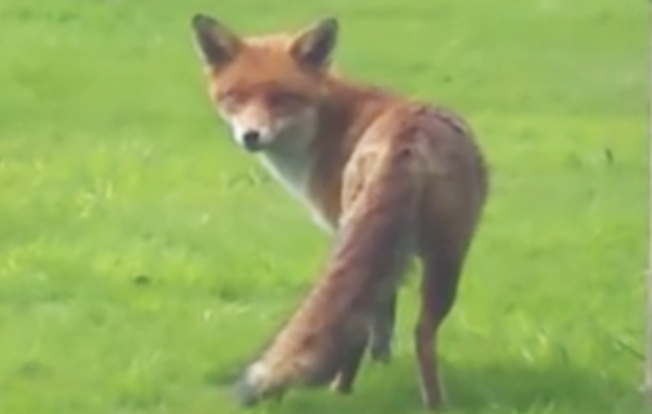 image via – youtube.com
It is always amazing to watch the behavior of wildlife when humans need to intercede in an emergency.  For the mother of a tiny baby fox cub, who has fallen down a drainpipe in Bexhill, England, it was waiting and watching from a distance, as if she "knew" that the rescuers were there to help find her baby.
As all mother's of young children know, you really have to keep your eyes on them constantly, because all it takes is a few seconds for them to be lost or in trouble. This mother fox, was definitely concerned about her little one, as she watched the "East Sussex Wildlife Rescue & Ambulance Service" looking down the drainpipe to catch site of the baby whom they could hear, but not see.
The cub had gone so far down the drainpipe, that the rescuers had to lower a cell phone camera, in order to find the frightened little animal.  They discovered that the cub was too deeply down the pipe for them to reach him.  They waited patiently, watching the cub attempt to climb out by himself, and get close enough for them to grab and rescue.  It took three attempts, before Trevor Weeks could get a hold of the cub's tail, and gently lift him out of the drain.
Wait until you see this tiny baby at the moment of rescue; the poor little thing is filthy and appears shocked, as he allows his human rescuer to comfort him. They clean him up and place him in an open carrier.  Mom, who has been watching from a distance, reappears and what happens next is both adorable and heartwarming.  Enjoy the footage below.
Please SHARE this amazing video with your family and friends